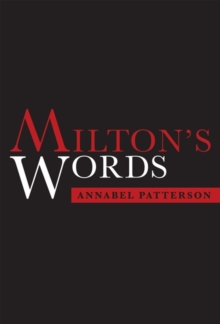 Description
Milton's Words approaches John Milton in both an old and a new way, focusing on his genius with words: keywords - the keys to a text or a theory; words of sexual avoidance and distress; words of abuse; words of privilege because 'Scripture'; big learned words; and cunning little words, easily overlooked.
After a short account of Milton's life as a writer, Patterson guides us through most of the poetry and polemicalprose, all too often kept in separate compartments.
She shows how new challenges and crises required shifts in vocabulary, as well as changes in Milton's views. What do Milton's words look like when we acknowledge their freight of personal and political history; when we track them from text to text; when we consider not only the big, important, learned words but also the very small ones, such as 'perhaps', which Milton deployed with consummate skill at some crucial moments in both poetry and prose, or the phrase 'he who', which replicates the Latinate 'ille qui', but to which Milton gives a psychological twist; when we consider not only word frequency,but infrequency, uniqueness or near uniqueness, as a signal of Milton's interest in a word; when we tackle these issues in the Latin texts for which there is not, as yet, a concordance; when we consider the possibility that certain words gain or lose value for Milton as he proceeds through hiswriter's life, and that certain words become keywords to a particular text, as 'book' becomes to Areopagitica; when we reconsider the question of Milton's coinages not from the stern legalistic perspective as to whether he should have made them, but why he needed them?
No one person could complete all these tasks, and nobody would wish to read a book that appeared to have completed them. Understanding Milton's words is, and should remain, a work in progress. But close attention to Milton's words is not all that this book offers.
It tells a slightly different story about Milton himself than the ones we have been used to.
Starting with an abbreviated 'writer's life', it explains the shape of Milton's writing career, the life-long tension between his literary ambitions and the pressure of exhilarating political circumstances.
The Milton you will find here walked no straight path from his Cambridge degree to the epic he had been talking of writing whenhe was still at university, but instead cut his teeth as a writer in an entirely different field, political controversy.
The effect on his vocabulary of his campaign to reform his country's church government and its divorce laws was galvanic, not least because he had to reconstitute his own imagefrom that of a shy and bookish person to that of a crusader.
He discovered that he enjoyed not only verbal conflict, but also mudslinging, and rude words became part of his arsenal in his very first prose tract. 'Marriage' and 'divorce', on the other hand, became loaded words for Milton for personal reasons, and he developed a new set of verbal resources, which Patterson calls 'words of avoidance', to help him tackle the subject. He never got over the experience of writing the divorce tracts. It was still on his mind when at the end of his life he revised his Latin treatise on theology, De Doctrina Christiana. Then, for about a decade, he was called upon to justify the Long Parliament's execution of Charles I, which forced him to come to terms with the political keywords of his generation, words such as 'king', 'liberty', 'tyranny', and 'the people'. When the republican experiment collapsed on the death of Oliver Cromwell, after one last brave salvo against the restoration of the monarchy Milton retired back into the role of private intellectual and poet.
Free Home Delivery
on all orders
Pick up orders
from local bookshops