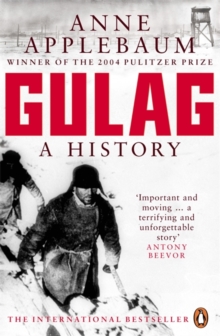 Gulag : A History of the Soviet Camps
Paperback
Description
This landmark book uncovers for the first time in detail one of the greatest horrors of the twentieth century: the vast system of Soviet camps that were responsible for the deaths of countless millions.Gulag is the only major history in any language to draw together the mass of memoirs and writings on the Soviet camps that have been published in Russia and the West.
Using these, as well as her own original research in NKVD archives and interviews with survivors, Anne Applebaum has written a fully documented history of the camp system: from its origins under the tsars, to its colossal expansion under Stalin's reign of terror, its zenith in the late 1940s and eventual collapse in the era of glasnost.
It is a gigantic feat of investigation, synthesis and moral reckoning.
Information
Format: Paperback
Pages: 624 pages
Publisher: Penguin Books Ltd
Publication Date: 01/04/2004
Category: European history
ISBN: 9780140283105
Free Home Delivery
on all orders
Pick up orders
from local bookshops
Reviews
Showing 1 - 4 of 4 reviews.
Review by pouleroulante
16/06/2015
closely-typed pages detailing injustices and misery decade after decade.She, and Eddie Izzard, have wondered why Stalin/Soviet memorabilia isnt reviled the way Nazi symbols are. This book is full of horrendous detail of ideology gone mad.5 stars but not an easy read...
Review by john257hopper
16/06/2015
I have read a fair amount of material on Stalinism and the camps, including all three volumes of Solzhenitsyn's Gulag Archipelago, but this is particularly useful in being one of the very few post-Soviet works on this subject I have read. Of neccessity very harrowing at times, it is also comprehensive in its coverage from a variety of different angles. I find some of the other comments posted here a bit baffling - she doesn't ignore WWII or the Tsarist prison system, though obviously they are not covered fully, as that is not the purpose of this book.
Review by ablueidol
16/06/2015
In depth and harrowing account of the use of prison camps and their essentially political function as both a form of control and of economic development as slave labour. (although how effective this was is open to question as many of the big projects were for political status rather then economic benefit) They also reflect the dehumanising ideals that individuals were redeemed by work. One of the benefits/truths(?)of a religion that demonstrate the true spirit of God is one that respects differences, promotes dignity and can see that of God even in the like of Hitler or Stalin- condemn the sin not the sinner to use Judaic-Christian language.
Review by hmib
16/06/2015
A powerful and important book.