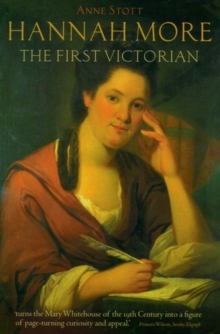 Hannah More : The First Victorian
Paperback / softback
Description
Hannah More (1745-1833), the daughter of an obscure schoolmaster, began her working life as a teacher at her sisters' school in Bristol.
In her thirtieth year she came to London to persuade the actor-manager David Garrick to put on one of her plays.
Her subsequent career as playwright, bluestocking, Evangelical reformer, political writer, and novelist turned her into one of the most influential women of her day.
Few of either sex could rival the range of herachievements.
This book is the first full-length biography of More for fifty years and the first to make extensive use of her unpublished correspondence.
The new material shows her to have been a more lively and attractive character than previous stereotypes have suggested.
It also reinforces the growing perception that she was a complex and contradictory figure: a conservative who was accused of political and religious subversion, an ostensible antifeminist who opened up new opportunities for femaleactivism.
Recent work on the Georgian period indicates that, in spite of their exclusion from formal power, women played a vital role in the ordering of politics and society.
The remarkable career of Hannah More adds weight to the argument that women (notwithstanding the repressive rhetoric of the conduct books) were increasingly active outside the allegedly private sphere of the home.
More's long life began just before the last Jacobite rising, and ended at the dawn of the railway age.
This book argues that she should be viewed as essentially forward-looking.
When one of her early biographers dedicated his book to the young Queen Victoria, it was a fitting tribute to More's significance.
In her energetic campaigning, her moral fervour, her belief in Britain's providential destiny, Hannah More anticipated many of the characteristics of Victorianism.
She was one of thecreators of the new age.
Information
Format: Paperback / softback
Pages: 420 pages, 12pp halftone plates, 2 maps
Publisher: Oxford University Press
Publication Date: 01/11/2004
ISBN: 9780199274888
Free Home Delivery
on all orders
Pick up orders
from local bookshops