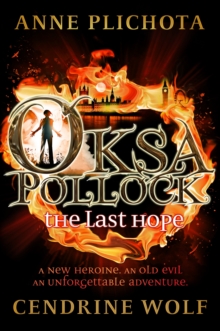 Oksa Pollock: The Last Hope
Hardback
Description
A New Heroine. An Old Evil. An Unforgettable Adventure. A thrilling new supernatural adventure series. Fuses the excitement, action and extraordinary worlds of Harry Potter, I Am Number Four and Buffy the Vampire Slayer with an inspirational new teen heroine. Oksa Pollock is a normal thirteen-year-old girl, starting a new life in London.
New lives, new friends, a new school and new adventures.
But bizarre things start happening around Oksa-she finds she can produce fire from her hands, move objects with her mind, and even fly. Finally the truth emerges...her family fled Edefia, their magical, hidden homeland years ago. And more than that: Oksa is their queen... Oksa will be thrown into a wilder adventure than she could ever have imagined.
She must triumph over her enemies. The whole of Edefia is counting on her. A new family moves in near Vitello, only they don't have a cool boy for him to play with, just a yucky girl. And it won't be fun to play with a yucky girl and her crazy hamster.
Definitely not. About the Author After studying Chinese language and culture, Anne Plichota lived and worked in Korea and China.
Her past jobs included working as a Chinese teacher, a nurse's aide, a public letter writer, and most recently a librarian.
She enjoys American and Gothic literature and hearing people's stories.
She lives in Strasbourg with her teenage daughter. Cendrine Wolf studied sports, and went on to work as a social worker in deprived neighbourhoods.
She taught herself illustration, and loves fantasy literature and speed 'in all its forms'.
Information
Format: Hardback
Pages: 528 pages
Publisher: Pushkin Children's Books
Publication Date: 01/06/2013
Category: Fantasy
ISBN: 9781782690009
Free Home Delivery
on all orders
Pick up orders
from local bookshops
Reviews
Showing 1 - 1 of 1 reviews.
Review by Eurekas
16/06/2015
I have to give this book a mixed review. The main characters in the story, Oska, Gus, Dragomira, Pavel, Abakum, and Leomido are three dimensional and well developed. The rest of the characters, including the main protagonist, McGraw, are two dimensional. They serve a purpose but are not well fleshed out. Much of the book is taken up with descriptions of the creatures who came with the Edefians who escaped to the Outside, and the things Oksa learns to do as the Young Gracious. The really exciting parts where McGraw is attacking probably take up 25 pages of a 500 page book. Oksa and Gus are in class with McGraw all the time but they are not nearly as afraid as they should be, particularly after he goes after them on the Gargantuhen. Oksa is too cocky by half and even with her loyal and smart friend Gus helping and looking out for her she takes way too many chances and is not nearly as suspicious or cautious as she should be and the situation warrants. The plot is interesting and hangs together mostly. I think some of the problems I felt in this first book may be fixed in the next books in the series. But for this first one I felt too much of the scene being set and the action moving along in a jerky and contrived way.