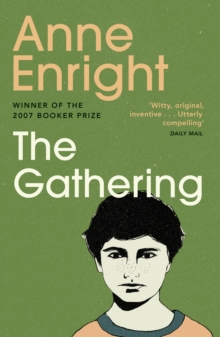 Description
Winner of the Man Booker Prize. The nine surviving children of the Hegarty clan gather in Dublin for the wake of their wayward brother Liam.
It wasn't the drink that killed him - although that certainly helped - it was what happened to him as a boy in his grandmother's house, in the winter of 1968.
The Gathering is a novel about love and disappointment, about thwarted lust and limitless desire, and how our fate is written in the body, not in the stars.
Information
Format: Paperback
Pages: 272 pages
Publisher: Vintage Publishing
Publication Date: 05/01/2008
ISBN: 9780099501633
Other Formats
CD-Audio from £15.05
EPUB from £4.99
Free Home Delivery
on all orders
Pick up orders
from local bookshops
Reviews
Showing 1 - 4 of 4 reviews.
Review by michaeldwebb
16/06/2015
To be honest, I'm not sure what to make of this book. It was beautifully written, but I just didn't feel any emotional envolvement. It's one of those 'cabbage' books - you know that sort - it feels like it's good for you, tastes OK, and is over quickly. A week on from reading it I can't really remember anything about it other than a vague memory that the narator was pretty bitter. I think I probably missed something, and given that it's short, an easy read, and widely available as a '3 for 2' it's worth giving a go.
Review by sainsborough
16/06/2015
"Over the course of the book the characters burrow into your marrow and mind, and you come to care for them deeply - something that is all too rare when reading the tricksier contemporary novels." - From the Daily Telegraph (UK), about another book altogether. To my mind, The Gathering is one of those "tricksier contemporary novels" which, while arguably skillfully written, just fails to engage the reader emotionally. I didn't like the protagonist, the uninspiring world she took us to nor the dry characters that appeared. I did not enjoy the book much, but it will stay in my library, as it clearly has some merit.
Review by dylanwolf
16/06/2015
Glorious, controlled writing unfurls this Irish family saga of memory and love. Some might complain of the lack of plot but that just allows for a richer exploration of internal life. What I did fail to connect with however was the absence of an exploration of the social and political setting. The spotlight is relentlessly directed to the personal (something that marks novels off as "female" reads?) and I did on occassion hanker for a little external philosophising as light relief. An impressive book non the less, although some of the sexual tinkerings were a bit rich for my taste..
Review by Mumineurope
16/06/2015
Saw it was a Booker winner and seller recommended it. Don't know why!