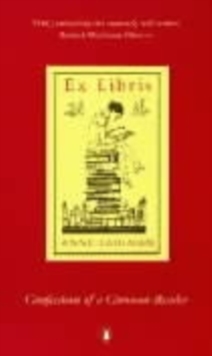 Ex Libris : Confessions of a Common Reader
Paperback
Description
Anne Fadiman is the sort of person who learned about sex from her father's copy of Fanny Hill, and who once found herself poring over a 1974 Toyota Corolla manual because it was the only thing in her apartment that she had not read at least twice.
EX LIBRIS wittily recounts a lifelong obsession with books.
Writing with humour and erudition she moves easily from anecdotes about Coleridge and Orwell to tales of her own pathologically literary family. 'One of the most delightful volumes to have come across my desk in a long while...witty, enchanting and supremely well-written' -- Robert McCrum, Observer
Information
Format: Paperback
Pages: 144 pages
Publisher: Penguin Books Ltd
Publication Date: 02/03/2000
Category: Literary essays
ISBN: 9780140283709
Free Home Delivery
on all orders
Pick up orders
from local bookshops
Reviews
Showing 1 - 5 of 7 reviews.
Previous | Next
Review by bemidjian
16/06/2015
Anne Fadiman has one of the most delightful writing styles, a mixture of wit and erudition that should be declared a national treasure. Here are some of her best essays, taken from Civilization, an aborted attempt at a great magazine that metamorphosed into an unreadable decoration for yuppie coffetables. Please, Ms. Fadiman, write some more.
Review by elliepotten
16/06/2015
This lovely little volume is a collection of essays about books and reading – not just generalisations but deeply personal habits and experiences, such as reading with her partner by the Grand Canyon and merging libraries with him when they moved in together. I bought it after finding it frequently quoted from in 'The Book Addict's Treasury' (by Julie Rugg and Lynda Murphy); I found it very enjoyable and once again I recognised myself in much of it, but it is very obviously American and sometimes slips into exaggerated self-righteousness and almost religious fervour and enthusiasm, which is quite offputting.All kinds of bookish behaviour is documented and explored within the eighteen essays. Some explore the various ways of shelving loved books – chronologically, alphabetically, by genre or some other method. Should your partner's books be merged with yours, and if so, when and how? Others look at the joy to be found in words – new words, magical words, complicated words. One discusses those books that just don't fit anywhere; one explores poetry; one entire essays explores the sinful habit of spread-eagling open books on a table instead of using a bookmark. One reflects on an ancient guide to womanhood and motherhood, hopelessly and terrifyingly out of date for a mother today. Some reflect on spelling, grammar, editing and storage. My favourite discusses the inscriptions made on the flyleaf of a book – and I have put extra thought into my own ever since! Recommended for book lovers everywhere.
Review by marek2009
16/06/2015
A collection of essays about reading & bibliophila that I started off laughing at, with delighted recognition, & ended up wishing she would shut up about her smug family. Far too much of the loathsome authoress competatively boasting about her & her family's achievements in that disagreeable American fashion.
Review by souloftherose
16/06/2015
A book I would probably never have heard of if it hadn't been for LibraryThing and my (reading) life would have been the poorer as a result.This slim volume (only 130 pages) is a delightful collection of essays about books and Anne Fadiman's love for them covering topics as diverse as combining libraries on marriage, former British Prime Minister, Mr Gladstone's thoughts on how to organise a library, mail-order catalogues and an absolutely hilarious essay on plagiarism in the literary world. There isn't a single dud in this collection and I found it impossible to read this book without laughing out loud at several points and forcing my husband to listen to me read aloud large sections of each essay.I can already say that this will easily be one of my favourite reads of 2011. If you haven't read it, you really must.
Review by patrickgarson
16/06/2015
This slim volume is apt to spark a guilty flare of recognition in any compulsive reader. Fadiman - a bibliophile raised in a family of the same - uses different types of reading and attitudes towards books as fodder for her ruminations. The book can't entirely evade accusations of fussiness and elitism, but it's careful not to outstay its welcome. Few readers, if any, will identify with her predilections across all eighteen essays. They range from the joys of "you are there" reading - the act of reading a book in the same location it's set in - to the peculiar allure of catalogues and the ignominious compromise of joining marital book collections. However, the act of recognition itself, and the internal debate it will no doubt ignite about the types of reading *you* prefer, are certainly enjoyable. Fadiman is aware of the potential middle-brow snobbery that these fancies can entail, but cannot wholly avoid them. The book's appeal is undeniably limited to compulsive readers, and as a fully qualified member of that category, I all-too-easily recognised the unspoken, guiltily-delicious smugness lingering behind some of the sentences. Our love of books is comical and silly, Fadiman will complain, but there's an undeniable implication that it also makes us better readers, and perhaps better people. Maybe it's the New Critic lurking somewhere in me, but I prefer essays about reading that focus more closely on particular works and authors. Using a reading experience as leverage into more universal aspects of reading and writing, as typified by Michael Dirda's writing. Perhaps its my own biases, but there's something vaguely distasteful to me in making the experience of reading so intensively inward-looking. For me, reading is certainly an escape - but just as often an escape out-of, rather than in-to, and I think Fadiman neglects that facet of the experience. That reading is an opportunity for engagement and understanding with a broader world. Her reader - at least as it's presented in Ex Libris is more of a beach-comber; unchanged by glittering delights snatched up from the flotsam of every-day words. For me, at least, I'm more often the one snatched than snatching, and a richer book would have elucidated that experience, also.