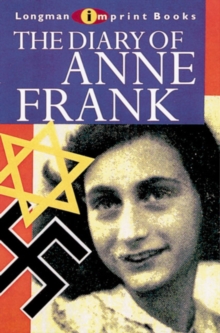 The Diary of Anne Frank
Paperback
Description
This special educational edition of Anne Frank's unique diary, describing her family's plight during the Nazi persecution, is accompanied by substantial background material and photographs to help students to contextualise this teenager's account.
Information
Format: Paperback
Pages: 256 pages
Publisher: Pearson Education Limited
Publication Date: 01/03/1989
Category: English literature
ISBN: 9780582017368
Other Formats
Paperback from £6.29
Microfilm from £46.29
Free Home Delivery
on all orders
Pick up orders
from local bookshops
Reviews
Showing 1 - 5 of 6 reviews.
Previous | Next
Review by kairstream
16/06/2015
Anne Frank hides from the Nazis with her family during World War II. This book includes pictures and additional background information for understanding.
Review by jaacobl
16/06/2015
Not a thriller, but an excellent book for young adolescents to read. 3 Thumbs Up!
Review by Aaron.Korff
16/06/2015
This book is about a young Jewish girl named Anne Frank. Her family has to go into hiding in Amsterdam with a dientest and another family. They stay in hiding for a long time. Later there is a burgler that breaks in and hears them. Then a worker starts to ask questions about them and asked for a raise. There is a boy in hiding with them named Peter and Anne starts to like him. In the end they are discovered and taken away. The only person to survive was Otto Frank the father from Anne Frank. We read the play version that only had a few actually diary enteries. My favorite part was when Mr. Van Dann takes some food and everyone starts to yell. I felt sorry for Peter because Anne wants him to stay but he should go with his familly. Then Miep a girl that helps them, comes in and tells them that D-Day happened. I also fell sorry for Anne becaue everyone is always mad at her, and likes her sister Margot. The sad thing though is that they had gone so long before being found. I also like it when Otto says they have been living in fear now they can live in hope.
Review by brandon.brown1
16/06/2015
The book Dairy of Anne Frank is about a girl named Anne who lived during World War 2. Anne was Jewish and went into hiding.Anne was 13 years old when she went into hidding. Anne and her family were joined by the Van Pels and the son Peter and a man named Mr.Dussel. They stayed into hiding for 3 years. During there time in hiding Peter and Anne started to like each other. One day there were caught hiding and sent to concentration camps. Anne died thrre days before the war ended and died when she was 15. That is what the book is about. I gave this book i five star rating because i thought it was really good. I liked the main character and her personality. I thought that the book was really sad at some parts. I also found the book to be very interesting. I found the way they lived in hiding very interesting. I thought that how the family's sometimes didn't like each other to be interesting. That's why I have this book this rating.
Review by mekenna.hooper
16/06/2015
Ann frank was a wonderful book to read she was right to right this.This book is about a young girl who lives in a secret annx in her fathers work. She lives with her mother, father sister and another family. They were the vann pals who had a son named Peter who Ann finds a loge interest with. The book tells all about the problems they faced. With people stealing food. Family living for years witheach other. Then they get captured . My favorit caracter was a women named Meip who tried to save them all.she would bring them food and supplies to help them live nicer in the annx. Ann and Margot her sister still had to do school work like nomad kids and still had chores like any other family.I thought this book was great it was fun to read and to learn about. I give this book three stars. It is for those who enjoy learning about the holocaust. I believw that the version we read is suitable for younger ages. It was good I enjoyed it except for the part I had to read in German.
Also in the NEW LONGMAN LITERATURE 14-18 series | View all