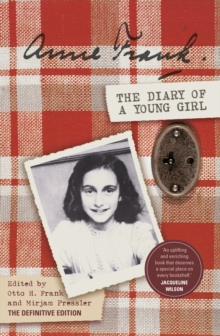 The Diary of a Young Girl
Paperback
Description
First published over sixty years ago, Anne Frank's Diary of a Young Girl has reached millions of young people throughout the world.
In July 1942, thirteen-year-old Anne Frank and her family, fleeing the occupation, went into hiding in an Amsterdam warehouse.
Over the next two years Anne vividly describes in her diary the frustrations of living in such close quarters, and her thoughts, feelings and longings as she grows up.
Her diary ends abruptly when, in August 1944, they were all betrayed.'One of the greatest books of the [last] century' - Guardian
Information
Format: Paperback
Pages: 352 pages
Publisher: Penguin Books Ltd
Publication Date: 28/02/2002
Category: True stories
ISBN: 9780141315188
Other Formats
Paperback from £4.99
Hardback from £15.09
EPUB from £5.49
Mixed media product from £10.22
eAudiobook MP3 from £8.80
Free Home Delivery
on all orders
Pick up orders
from local bookshops
Reviews
Showing 1 - 2 of 2 reviews.
Review by yellowoasis
16/06/2015
When I heard that the BBC were serialising this book, I thought I should actually find time to read it first. I'm glad I did. Anne's account of her time in the secret annexe with her family and others in hiding is funny, heartbreaking, poignant. She is of course a brilliantly direct writer and this reads exactly as it should – the diary of an ordinary young girl living in extraordinary circumstances. It is also a very domestic story, by dint of being about eight people forced to live together in less than ideal circumstances. It's probably one of the truest accounts of teenage yearning I know, perhaps because it is a real diary. All through the book I kept thinking, would this book be so poignant if Anne had survived? Probably not, but it would still be an important record of wartime life. Would the book be as good if it were fiction and not true? Again, probably not. The joy of the book is that there is no structure, beyond the necessary day by day entries. A fiction writer would be tempted to add some kind of story arc. The diary is what it is, a slice of someone's life. Often, Anne talks of the frustrations of marking time until they are free again and the reader cannot help but wonder if she would have felt the same if she'd known how short her future was going to be. Those instances are heart-rendingly sad.Ann's diary is about the trivia of everyday life and the enormous events going on around her; it's about the small things and the big things - her annoyance with her parents for failing to understand her, and her proto-feminist ideas about the rights of women. At the end of the diary I simply had one question: what would Anne have become if she had lived?
Of course I knew exactly what The Diary of a Young Girl was before I started reading it. I quickly realised that, even though I knew what it was, I had no idea what it would be like.In many ways it is an ordinary diary. It is written by a young girl, and it is about the kind of stuff any young person would be likely to write about: Seeking approval, conflicts with parents, growing up, love, and other subjects that would be on the mind of any teen. Naturally, even though this is a regular diary, it is far from normal. Anne Frank and her family are hiding from the Nazis, and know that they, and the people who helped them hide, will probably be killed if they are discovered.It is fascinating to see how people adjust, and how life, even under tough circumstances, can still seem normal. One page talks about fear of dying, the next about dislike of algebra, followed by a note on how bombs are falling nearby, followed by how grown-ups are stupid.It is also an historic document, and worth reading for the tragic reminder of how people were treated like anything but during the second world war.The sense of normality is part of what makes this diary so powerful: it is a reminder how we are all alike. Regardless of ethnicity, religion, upbringing, and even circumstance, we are all human beings who deserve to be treated the same.At the same time, Anne Frank shows no acceptance. She knows that the situation that is forced upon her is wrong, and she speaks of her hopes and ambitions for when the war is over. She refuses to accept the limitations society attribute to her as a Jew and as a woman. She wants to be the best person she can be, and she wants the world to be a place in which she can achieve this.The Diary of a Young Girl is as essential as I thought it would be, and is well deserving of the position it has as a must-read book in the context of the second world war.