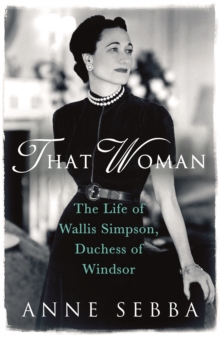 That Woman : The Life of Wallis Simpson, Duchess of Windsor
Paperback
Description
Bestselling biography of the enduringly fascinating Wallis SimpsonOne of Britain's most distinguished biographers turns her focus on one of the most vilified women of the twentieth century.
Historian Anne Sebba has written the first full biography by a woman of Wallis Simpson, Duchess of Windsor. 'That woman', as she was referred to by the Queen Mother, became a hate figure for ensnaring a British king and destabilising the monarchy.
Neither beautiful nor brilliant, she nevertheless became one of the most talked-about women of her generation, and she inspired such deep love and adoration in Edward VIII that he gave up a throne and an empire for her.
Wallis lived by her wit and her wits, while both her apparent and alleged moral transgressions added to her aura and dazzle.
Based on new archives and material only recently made available, this scrupulously researched biography sheds new light on the character and motivations of a powerful, charismatic and complex woman.
Information
Format: Paperback
Pages: 368 pages
Publisher: Orion Publishing Co
Publication Date: 01/01/2012
Category: Biography: royalty
ISBN: 9780753827390
Free Home Delivery
on all orders
Pick up orders
from local bookshops
Reviews
Showing 1 - 1 of 1 reviews.
Review by tututhefirst
16/06/2015
Wallis Warfield (better known as the Duchess of Windsor) hailed from Baltimore, my home town.  World famous as the twice divorced woman who captured the heart of the King of England, she is a person whose life has never made much sense to me, and who is often held up to much scorn and criticism.  Of course every young girl who hears the story about a King giving up his throne to marry "the woman I love" at first must think this is a romantic fairy tale. It isn't.  It's a tragedy.In this latest biography of the Duchess, Anne Sebba tries to present both The Duke (ex-king Edward ) and his Duchess as two persons whose personality disorders (nowhere documented) drove them to act as they did and  meant that they were perfect for each other.  The author's positing of strange sexual dysfunctions for both of them adds nothing to the already well-known tale, and serves only to make the story more unbelievable.  She succeeds only in reinforcing my perception that they were each selfish, infantile, and insecure to a degree that they could never have functioned as adults in the tumultuous world in which they lived. A total waste of time, and a sad, sad, story.