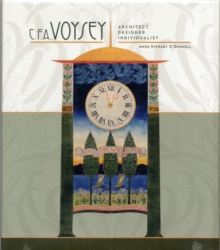 C.F.A. Voysey Architect Designer Individualist A193
Hardback
Information
Format: Hardback
Pages: 108 pages
Publisher: Pomegranate Communications Inc,US
Publication Date: 10/02/2011
ISBN: 9780764958847
Free Home Delivery
on all orders
Pick up orders
from local bookshops
Reviews
Showing 1 - 5 of 16 reviews.
Previous | Next
Review by AfroFogey
16/06/2015
Wow, is the first thing you think when you see this book. The cover is stunningly beautiful and fortunately the writing is equally appealing. This is book is a great primer on C. F. A. Voysey, whom I never heard of previously but am interested in learning more about due to this book.
Review by 2wonderY
16/06/2015
Beautiful!Many color plates of wallpaper designs and architectural renderings. Also some interior period photos of his own home, The Orchard.I'll add to this review after I've read the content, but this is well worth it just for the visual presentation.
Review by the.ken.petersen
16/06/2015
It is said that eBooks will completely take the place of the printed variety: nonsense - and this tome proves why. In addition to being the best explanation of the Arts and Craft movement that I have come across, and a biography of C.F.A. Voysey, this book is a delight to browse. The designs are treated with respect and the delightful layout and the quality of the reproductions of Voysey's works bring to life the original joy of seeing them. The text is also carefully laid out to avoid that awkward situation where one is reading and must turn past pages of illustration to reach a suitable point at which to break the narrative and view the images.Anne Stewart O'Donnell tells the story well; for me, she admirably balances her approach so that someone with an architectural background should not feel patronised but, at the same time, an ignoramus, such as myself, can appreciate the finer points. This is a coffee table book, a biography, a history of the Arts and Craft movement and a pleasure to hold. It is some time since a modern book, passing through my hands, has given so much sensual gratification. It is a book that one just does not want to put down: it is a work of art in its own right.I confess, that in my ignorance, I had not come across Pomegranate but, if this is an example of the care that they take in producing a book, I am certain that more examples will grace my bookcase soon.
Review by haled
16/06/2015
A credit to contemporary publishing skills and to the Arts and Crafts Movement inspiration of its subject, this book is a beautifully designed object. Drawing on previous writings on Voysey (carefully credited) as well as early journal articles, particularly Studio magazine, it brings together his designs( for buildings, fabrics, wallpapers, furniture and furnishings) and ideas in a very readable form. There is considerably more emphasis in this book on the designs than on the actual buildings or finished fabrics etc. Of course the drawings are very visually appealing and can be seen as a better indication of the original intentions of their creator than the final reality. The architectural drawings focus on the elevations and plans are only included where they appear on the same sheet. The scale of the reproduction is generally too small to be able to analyse the plans and indeed the text does not really analyse the buildings in any detail. There are interior photographs of the period showing Voysey's furniture and furnishings which are useful as little survives unaltered today and certainly not in situ. Probably not many fabrics survive either. It is good to see a few designs reproduced from the wonderful collection in the RIBA which were not included in Stuart Durant's book of the decorative designs. I am struck by how fresh many of them seem still today.As an attractive and concise analysis of Voysey's work and importance presented for a contemporary audience the book works very well.
Review by presto
16/06/2015
This attractive publication looks at Voysey's life and work. The opening chapter briefly discusses Voysey's upbringing and education and progress towards becoming an architect. Subsequent chapters concentrate on various aspects of his work as architect and designer. A further chapter considers Voysey's career through successes to periods of difficulty.The book is illustrated throughout in colour and black and white, over 65 colour illustrations, mostly up to full page in size show architectural designs, textile and wallpaper designs. There are also a number of line drawings and several photographs. The book includes note to the text and a bibliography, but there is no index.This is a beautifully produced book, and much care and thought has clearly gone into its design. The sensitive sans font chosen for the text compliments the illustrations both in weight and style. The opening page for each chapter is distinctively designed. The quality of reproduction of the illustrations is excellent, capturing every nuance in the Voysey's original design.
Also by Anne Stewart O'Donnell