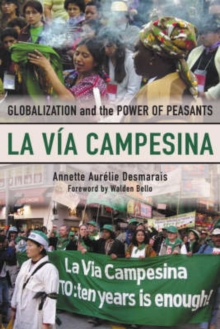 La Via Campesina : Globalization and the Power of Peasants
Paperback
Description
"Essential reading for all those who seek to understand the worldwide opposition to neoliberal globalisation and the social and environmental destruction wrought by industrial agriculture.
The hopes that have propelled peasants and small farmers to cross-border unity and action are on proud display in this moving account." Marc Edelman, Professor of Anthropology, City University of New York"A ground-breaking study of the rise of a significant new transnational political and social force, the Via Campesina."Philip McMichael, International Professor of Development Sociology, Cornell University"How the Via Campesina survived and thrived to champion food sovereignty, gender equity and global grassroots solidarity is an inspiring tale, beautifully told."Terisa Turner, Associate Professor, Sociology and Anthropology, University of GuelphLa Via Campesina is one of the world's largest and most important transnational social movements.
Formed in 1993, it brings together rural women, peasants, indigenous communities, small-scale farmers and farm workers from around the world.
Comprising millions of people, it is a leading force against the globalization of a neo-liberal and corporate-led model of agriculture. This book explores the movement from the inside. Annette Aurelie Desmarais, a former grain farmer and long time participant in La Via Campesina shows how peasants and small-scale farmers have found the strength to challenge multinational agribusiness corporations and international institutions whose power and influence increasingly dictate government policy.
This book accompanies La Via Campesina in a struggle to keep people on the land, producing food and culture, and building viable communities.
Information
Format: Paperback
Pages: 256 pages
Publisher: Pluto Press
Publication Date: 01/06/2007
Category: Rural communities
ISBN: 9780745327044
Free Home Delivery
on all orders
Pick up orders
from local bookshops