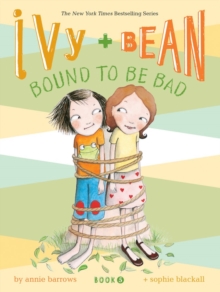 Ivy + Bean Bound to Be Bad
Paperback
Description
Ivy and Bean decide they are going to be the best kids in town.
They are going to be nice, they are going to be sweet, they're going to be kind and generous and pure of heart but as usual, they end up in trouble!
Information
Format: Paperback
Pages: 128 pages
Publisher: Chronicle Books
Publication Date: 01/04/2009
Category: General
ISBN: 9780811868570
Free Home Delivery
on all orders
Pick up orders
from local bookshops
Reviews
Showing 1 - 2 of 2 reviews.
Review by AbigailAdams26
16/06/2015
When Bean's day gets off on the wrong foot, and she finds herself consigned to doing the breakfast dishes (even though it isn't her turn), as punishment for licking her plate, as well as forced to pay Nancy for the yarn she has taken, she takes off for Ivy's house, hoping for a distraction from her troubles. There she finds her friend determinedly being good, under the impression that the pure of heart will attract the birds and the beasts - specifically, wolves - to her side. Being pure of heart is hard work, though, as Ivy and Bean discover, when confronting the neighborhood bully, Crummy Matt. Being bad - so that they can then be reformed - can be tough as well, however - especially since, as Bean notes at one point, it can be catching...Another amusing entry in author Annie Barrows and illustrator Sophie Blackall's chapter-book series about second-grade friends Ivy and Bean, <u>Ivy + Bean: Bound To Be Bad</u> offers an interesting and somewhat unconventional take on virtue and vice, as seen by the primary school set. I thought the way that the characters turned being good - as well as being bad - into a game was spot on, as this is how children often learn complex things: by acting them out. Like another reviewer, I do wish that the inspiration for Ivy's little project - it is clearly meant to be St. Francis of Assisi - had been spelled out, although I was charmed by the discussion in which the (unnamed) saint is compared to Disney's Snow White, who also managed to attract birds. I got a chuckle out of the following exchange:<i>Ivy made a face. "Snow White wasn't good. She was a goonball. Everyone knows you're not supposed to eat stuff you get from strangers.""But the birds liked her," said Bean."Maybe the birds felt sorry for her, but they didn't think she was one of them," said Ivy. "Anyway, I don't want to be like Snow White. I want to be like the guy in the picture. I want a wolf to follow me because I'm pure of heart."</i>This scene struck me as one more example of intelligent use of dialogue, from this charming series! I bought the first five books in the <i>Ivy and Bean</I> series at the same time, and although I had some reservations about the fourth entry (<u>Ivy + Bean Take Care of the Babysitter</u>), this fifth one was enough to convince me to go on with them...
Review by azlanshae
16/06/2015
This book is about a young girl named Bean who is getting into trouble at home. She goes to her friends Ivy to play. Ivy tells her that they can attract animals to follow them if they are good. Ivy tries to conform Bean, but Bean has trouble being good and kind hearted. Ivy decides they should try to befriend Crummy Matt (a mean boy from school). Crummy Matt wants nothing to do with them. Ivy than alters her plan of being nice by convincing Bean to be mean and then conform when she tells her to. Bean is overcome with acting mean and encourages others around to also act mean. Eventually everyone is doing rude things within the community. Bean plays one more mean trick on all the people with Ivy's help and is confronted by Crummy Matt. He ties the two girls up, sprays them until they are soaking wet, and places a rat on Ivy's head. The girls eventually escape with the help of Katy. Ivy is content with the rat on her head, feeling as though she accomplished what she had set out to do. Bean decides to return to her regular self, somewhere in between good and bad, and joins the other kids in the hose spraying.
Also in the Ivy & Bean series | View all