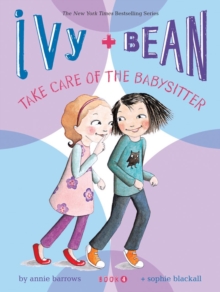 Ivy + Bean Take Care of the Babysitter
Paperback
Description
In this fourth title in Chronicle's successful "Ivy and Bean" series, Bean is dismayed to learn that her sister is going to be her babysitter.
That's not fair! But with help from Ivy, mischief and mayhem ensue, begging the question: Who is really in charge?
Information
Format: Paperback
Pages: 128 pages
Publisher: Chronicle Books
Publication Date: 25/07/2008
Category: General
ISBN: 9780811865845
Other Formats
EPUB from £3.35
Hardback from £8.49
Free Home Delivery
on all orders
Pick up orders
from local bookshops
Reviews
Showing 1 - 3 of 3 reviews.
Review by marvelousleah
16/06/2015
Ivy and Bean are very realistic characters who play, laugh, fight, and get into trouble. They deal with the same issues that real middle class, 9-year-old girls deal with, like friends, siblings, and parents. In this installment, Bean is 'forced' into captivity with her older sister as the babysitter. Ivy helps her 'escape' and find more trouble. This chapter book has occasional sketches and illustrations that help readers visualize the girls' plight. Readers will also enjoy the ideas that Ivy and Bean come up with for games and activities.
Review by AbigailAdams26
16/06/2015
Called away from an exciting game of volcano, involving a gargantuan mound of dirt in Sophie W.'s front yard, and all the neighborhood children, Bean in aghast to learn that her parents have put her in the care of her older sister Nancy for the afternoon, and that she is not allowed to leave the house. To add insult to injury, Nancy is getting paid for being her babysitter! Determined to escape from this 'captivity,' Bean summons Ivy to her aid, by means of a distress flag (which she ends up having to toss out her window at her oblivious friend), and the two are soon plotting away. With Nancy in the bathroom trying on their mother's (forbidden) makeup, the two friends decide to explore the crawl space/attic that Bean has always been told she must not enter. Will Nancy be able to rescue them, when they accidentally lock themselves in...?<u>Ivy + Bean Take Care of the Babysitter</u> is my least favorite entry, thus far, in Annie Barrows and Sophie Blackall's chapter-book series about two second-grade friends. All the mean-spirited brattiness that my online friend Marian decried, in her review of the first book, is very much in evidence here. Somehow, despite some rather dubious incidents (like throwing <i>worms</i> into her sister's face!), the first book just didn't bother me that much. But here, as I watched Ivy and Bean create a mess, which Nancy cleaned up for them, before blackmailing Nancy into sharing some of her baby-sitting money (by threatening to expose her makeup adventures), I began to be significantly less charmed. I kept expecting some of the balance seen in the previous installment of the series, <u>Ivy + Bean Break the Fossil Record</u>, to surface here - for there to be some moment when Bean realizes she is in the wrong - but it doesn't happen. It's clear from the story that Nancy, whatever her snotty eleven-year-old failings, genuinely cares for Bean. Her panic, when she can't find her screaming younger sister, is genuine. So Bean and Ivy's behavior just seemed obnoxious to me. I realize that sisterly relationships can sometimes be rather fraught - I fought like cats and dogs with my closest older sister, when a girl - but still felt that, building on the previous book, in which Bean was able to admit that someone else was right, and that she was wrong, that there should have been something a little more balanced here. A twinge of conscience, if you will.Still, despite the failings of this book - and I found it the weakest, of the five I have read thus far - I still recommend the series. It has some very good qualities, I think - engaging characters, charming illustrations, some very intelligent dialogue - in addition to its flaws.
Review by Stahl-Ricco
02/03/2016
Ivy and Bean are back and they are "taking care" of the baby sitter - Bean's sister, Nancy! It's Nancy's first baby sitting job, and the girls do their best to take advantage of the situation! Again, I don't love their attitudes, but my daughter really likes their adventures. So, on to the next one!
Also in the Ivy & Bean series | View all