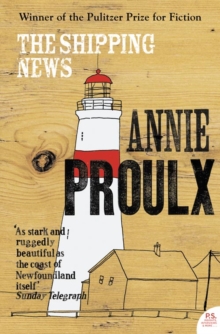 The Shipping News
Paperback
Description
Annie Proulx's highly acclaimed, international bestseller and Pulitzer Prize-winning novel.Quoyle is a hapless, hopeless hack journalist living and working in New York.
When his no-good wife is killed in a spectacular road accident, Quoyle heads for the land of his forefathers - the remotest corner of far-flung Newfoundland.With `the aunt' and his delinquent daughters - Bunny and Sunshine - in tow, Quoyle finds himself part of an unfolding, exhilarating Atlantic drama. `The Shipping News' is an irresistible comedy of human life and possibility.
Information
Format: Paperback
Pages: 368 pages
Publisher: HarperCollins Publishers
Publication Date: 01/06/1994
ISBN: 9781857022421
Other Formats
EPUB from £4.49
eAudiobook MP3 from £13.40
Free Home Delivery
on all orders
Pick up orders
from local bookshops
Reviews
Showing 1 - 5 of 9 reviews.
Previous | Next
Review by hellbent
16/06/2015
My interest in this novel was its setting in Newfoundland, which I visited in 1971 and retains a rustic culture unique to Canada. I think that the author has captured this culture, altough her plot was slow-paced, if not difficult to detect. The character development was shallow and it was not really until the last two chapters the story went anywhere and for that reason, seemed a little contrived, not unlike a murder mystery, where suddenly all the pieces of the puzzle are neatly arranged and the story ends.
Review by bibliobbe
16/06/2015
What is it about people who can't articulate themselves very well making such good characters in novels? In this one, Quoyle is a hopeless case who may as well have Asperger's Syndrome, he seems so doomed to failure in his relationships. He is rescued by his aunt (who has an interesting past all of her own) and his move to his ancestral home in Newfoundland. I was reminded of all the Newfie jokes I've ever heard through the years (yes, the inbreeding stories abound here, too), but I loved this story of how one man comes to understand who he is, and how to find love in a harsh environment. Like all Proulx novels, it's quirky and comical, but this is the best Proulx novel of the lot.
Review by achoo_tw
16/06/2015
I had a little trouble reading it at first because the characters never spoke in complete sentences. Also, there were a lot of professional terms or "lingo" that I couldn't be bothered to look up. I skimmed through it at first but later Quoyle grew on me. He was quite pathetic in the beginning as I got to the middle of the book, I could see that he was really trying. Doing all those things that he never dared to , like going into the water, fixing the shingles on his roof and such all for his children. I admire his courage. I especially liked the part where he carried Bunny (or was is Sunshine) off the roof when she climbed up to help him. I could almost feel what he was feeling. This writer's got style, I'll say.
Review by TrueChic
16/06/2015
An attention holding plot, and evocative writing. My one criticism is that she does use similes quite often, and some of them really don't work too well, but aside from this irritation, a recommended read.
Review by alexrichman
16/06/2015
This would be a brilliantly bad beach novel. The reviews on the covers say it all, really - a wonderful portrait of odd but loveable characters in a stark icy nowhereland, described with crisp, sharp writing to match the setting.