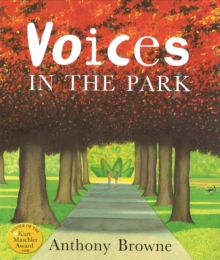 Voices in the Park
Paperback
Description
Four different voices tell their own versions of the same walk in the park.
The radically different perspectives give a fascinating depth to this simple story which explores many of the author's key themes, such as alienation, friendship and the bizarre amid the mundane.
Anthony Browne's world-renowned artwork is full of expressive gorillas, vibrant colours and numerous nods to Magritte and other artists, while being uniquely Browne's own style.
Information
Format: Paperback
Pages: 32 pages
Publisher: Random House Children's Publishers UK
Publication Date: 05/08/1999
Category: Picture books
ISBN: 9780552545648
Free Home Delivery
on all orders
Pick up orders
from local bookshops
Reviews
Showing 1 - 1 of 1 reviews.
Review by SandDune
16/06/2015
For those people who aren't familiar with Anthony Browne's work he is probably best known for his inclusion of gorillas instead of people in his books, but going about their normal day-to-day activities as people would do in towns and cities. Like a more peaceful planet of the apes in modern day Britain. I'd seen his books recommended a few times when my son was still at the picture book stage, had glanced at one or two, but they hadn't appealed and I'd put them back on the shelf. So I was suprised to find that I loved this book.In Voices in the Park a father takes his young daughter and her dog for a walk in the park, and a mother takes her son and their dog to the same park. The children meet, they play, the dogs play and then everyone goes home - nothing much happens. But in four separate stories each participant views the events from their own very different viewpoint - the father is clearly unemployed and short of money - the mother is well off and concerned to see that her son plays with the 'right sort of children'. What really makes the book are the illustrations which echo the viewpoints of each participant. At first glance the pictures are quite simple but as you look at them more closely you can see more and more surreal images and notice lots of details which reflect the point of view of that particular story - for instance the father's newspaper has a picture of Munch's 'The Scream' on the front cover which seems to reflect his desperation that he can't find a job. With a child's favourite picture book a parent does have plenty of time to look at the pictures - as you read it again ... and again ... and again which does give time to notice all these details. In a very simple book Anthony Browne has said lots of quite profound things about class and social structure and what you need to be happy. My one reservation is that I think the target audience (probably 5 year olds?) wouldn't notice a lot of what the book seems to be about. Perhaps this is intentional - I looked at his website and he'd made the following comments about who his books were for:'Picture books are for everybody at any age, not books to be left behind as we grow older. The best ones leave a tantalising gap between the pictures and the words, a gap that is filled by the reader's imagination, adding so much to the excitement of reading a book.'