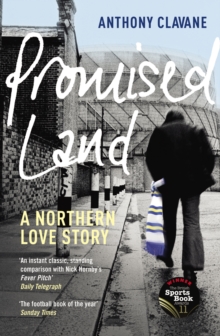 Promised Land : A Northern Love Story
Paperback
Description
Anthony Clavane loves Leeds - certainly the football club, but also the city, and the tribes that make it.
Now that he is an exile in the South, his frequent pilgrimages to the stadium speak for themselves.
But he no less loves the rarely-glimpsed back-streets of his youth; and even has a feel for the long-gone slums where his ancestors once settled.
Leeds is his promised land; idealised and unreachable, yet still it defines him.
This is a book about football. It's about unconditional love for a club, even when it doesn't always seem to love you back.
But it is also a book about much more than that.
Information
Format: Paperback
Pages: 304 pages
Publisher: Vintage Publishing
Publication Date: 07/07/2011
Category: Sports teams & clubs
ISBN: 9780224082648
Free Home Delivery
on all orders
Pick up orders
from local bookshops
Reviews
Showing 1 - 1 of 1 reviews.
Review by PaulCranswick
16/06/2015
This could well be the best book I have read ostensibly on sport and, believe me, I have read more than a few.I say ostensibly because this is so much more than a simple rise and fall and rise and fall and rise..... of my beleagured soccer club. It is a social history and a sociological study of the city of Leeds and its environs; of its tribes and communities; of its poverty and affluence; of its passions and its ambivalences; of its incredible literary heritage.The rise of the soccer club coincided with the emergence of the "kitchen sink" generation of angry young writers many of whom called Leeds or its district their home. Alan Bennett, David Storey, Keith Waterhouse, Tony Harrison and later Caryl Phillips are all liberally quoted from and their impact upon the success of the book is profound.Leeds has always been a city of contrasts. On the one hand it is the vibrant business hub for the monied of Northern England; on the other its inner cities were akin to a post-industrial wasteland with no-go areas and more rubble than a war-torn archipelago. The club was the first to promote black players in the country and was run successfully by Jewish businessmen for decades but housed a vocal and disgusting racist element amonst its "supporters". The club were capable of the most sublime football and yet were seen as cynical, dirty and professional (when the adjective was a criticism). Despite that so called professionalism the club was wont to choke at the last and finished second more times than Poulidor in the Tour,I am biased. I was born in and grew up in West Yorkshire at a time when my team was Mighty Leeds and everyone from outside hated us. I grew up with pride in my district and in my sporting heroes who so often tried and failed but did so gloriously. I grew up in a time of power cuts and three day weeks and stories at night instead of TV because there was no electricity. I grew up in a time when ladies were afeared of venturing out because of the Yorkshire ripper, a time of inflation, a time of unemployment, a time of industrial decay and dispute, a time of communities bereft of hope for the future as manufacturing and the mines were taken from them, a time when empire and "great" were expunged from the name of Britain. But it was also a time when race issues showed signs of being consigned to the sewer of history. I grew up in a post-holocaust Europe and have counted as my friends people of all race and creed as our generation hoped that lessons were learned.All of this was beautifully captured in the book. More than a sports book. much, much more.