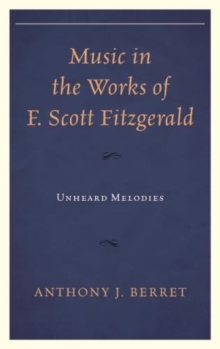 Music in the Works of F. Scott Fitzgerald : Unheard Melodies
Hardback
Description
Music in the Works of F. Scott Fitzgerald illustrates and analyzes the ways in which Fitzgerald integrated music with literature through his entire writing career, from his early Triangle Club lyrics to his later Hollywood screenplays, but most significantly in the novels and short stories for which he is most famous. Growing up during the first resonating outbursts of popular music-the ragtime era and the jazz age-Fitzgerald filled his fiction with popular songs to express the topics, mores, and energy of his times.
As the years passed from World War I to the Roaring Twenties and the Great Depression, these songs brought to his work the varying effects that they had on a mass society: stimulation, romance, nostalgia, and consolation.
The songs also contributed to the modernist traits of his style by creating a mixed-media texture and allusive openings to shows or movies in which the songs appeared.
Although popular culture seemed appealing, Fitzgerald constantly worried about how it affected the stature of his works.
He carefully distinguished between his popular short stories and his classic novels.
But just as songs incorporated popular culture into his works, so other musical qualities, which came to him from classical music by means of poetry, furnished imagery, and structure that enhanced the classic value of his novels.
Even from his later work on screenplays, which he considered a low type of writing, Fitzgerald learned to transform the art and industry of film into fitting material for what could have been his last classic novel, and music provided both popular and classical elements to advance this effort. Fitzgerald experienced and appreciated the lively new music of his time.
In his writing he preserved, organized, and interpreted it for future generations.
Information
Format: Hardback
Pages: 292 pages, 24 Illustrations, black and white
Publisher: Fairleigh Dickinson University Press
Publication Date: 20/09/2013
Category: Literary studies: from c 1900 -
ISBN: 9781611475685
Other Formats
Paperback / softback from £31.49