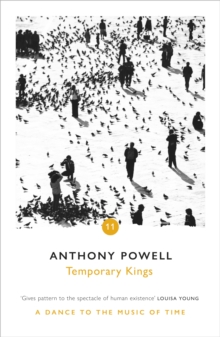 Temporary Kings
Paperback
Description
The eleventh novel in Anthony Powell's brilliant twelve-novel sequence, A Dance to the Music of Time
Information
Format: Paperback
Pages: 288 pages
Publisher: Cornerstone
Publication Date: 07/07/2005
ISBN: 9780099472520
Free Home Delivery
on all orders
Pick up orders
from local bookshops
Reviews
Showing 1 - 3 of 3 reviews.
Review by devenish
16/06/2015
Many of the usual characters are reintroduced to the reader in this the eleventh book of the series. For me this has been about the least interesting of all the volumes as nothing really significant happens. The outstanding episode I suppose,is the argument between Widmerpool and his wife Pamela in which several unfortunate revelations come to light.I now look forward to reading the final volume of this vast and sprawling work.
Review by Eyejaybee
27/08/2015
The eleventh volume of Powell's masterful Dance to the Music of Time sequence opens in Venice where the narrator, Nick Jenkins, has been lured to attend a literary conference. Among his fellow delegates are the erudite but slightly intimidating academic, Dr Emily Brightman, and Russell Gwinnett, an American academic who has taken a sabbatical break to work on a literary biography of the talented yet personally disordered novelist X Trapnel whose chaotic life formed much of the backdrop to the previous volume, 'Books Do Furnish A Room'.Gwinnett advises Jenkins that he is particularly eager to meet Pamela (now "Lady" following her husband's elevation to a peerage) Widmerpool, who had been instrumental in Trapnel's decline after her wanton destruction of the manuscript of his unfinished novel "Profiles in String". This encounter duly happens as the senior attendees of the conference are invited to visit the palazzo where the Widmerpools are staying. One of the principal attractions of the palace is a ceiling painted by Tiepolo which depicts the story of Candaules and Gyges, as recounted by Herodotus. Candaules, King of Lydia, had frequently boasted of the beauty of his wife, and arranges for his friend Gyges to lurk in their chamber where he can see for himself. The particular poignancy of this situation revolves around the fact that nakedness was a near taboo among the Lydians. The Queen, however, glimpses Gyges watching her naked form and subsequently confronts hi, advising him that he must either kill her husband and marry her himself (en secondes noces), or she would arrange for him to be killed, thus either formalising his illicit knowledge of her nakedness, or removing him all together. Not surprisingly Gyges opts for the former course, and after killing Candaules and marrying the Queen, he ruled the Lydians for forty years. Pamela is intrigued by the painting and seizes on its voyeuristic theme as an opportunity to denounce some of her husband's own unsavoury habits. Widmerpool is surprisingly unfazed by revelations as he has other worries to consider - he is currently under investigation following allegations that he had been a Communist spy with connections to Burgess and Maclean. Meanwhile Jenkins gets to visit his former boss, Daniel Tokenhouse, who turns out to have extreme left wing sympathies which have brought him into contact with Widmerpool. Powell manages all this with consummate ease, and right up to the end of the novel one is never quite sure whether or not we are going to witness Widmerpool's final demise.Powell demonstrates, yet again, his extraordinary ability to write a novel in which precious little actually happens yet throughout which the reader is kept at a pitch of excitement and expectation comparable to the most rip-roaring thriller.
Review by eadieburke
27/01/2016
Book Description<br/>In this penultimate volume, Temporary Kings (1973), Nick and his contemporaries are at the height of their various careers in the arts, business, and politics. X. Trapnel is dead, but his mystery continues to draw ghoulish interest from readers and academics alike 14as well as from his lover, Pamela Widmerpool. Kenneth Widmerpool, meanwhile, is an MP with mysterious connections beyond the newly dropped Iron Curtain, but he continues to be tormented by Pamela; a spectacular explosion, Nick can 19t help but realize, is imminent.<br/><br/>My Review<br/>Another great installment in Anthony Powell's Dance to the Music of Time. It's 1958 and Nick is attending a conference in Venice. Pamela Flitton-Widmerpool continues to leave ruined men in her wake. We are introduced to two new, American characters. Gwinnett is an academic preparing a biography of X. Trapnel. Glober, on the other hand, is a millionaire movie producer whom, we are informed in flashback, Jenkins had already briefly met in the 1920s. One quote that I enjoyed was: "You've never grown up. You can't grow old till you've done that." One more book to go and I can't wait to see what happens in the end of this 12 volume book.