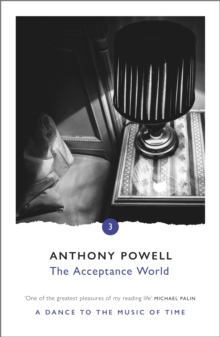 The Acceptance World
Paperback
Description
A Dance to the Music of Time chronicles the lives of over three hundred characters, and is a unique evocation of life in twentieth-century England.
It is unrivalled for its scope, its humour and the enormous pleasure it has given to generations.
The Acceptance World follows Nicholas Jenkins, Kenneth Widmerpool and others, as they negotiate the intellectual, cultural and social hurdles which stand between them and the 'Acceptance World'.
Information
Format: Paperback
Pages: 224 pages
Publisher: Cornerstone
Publication Date: 06/01/2005
ISBN: 9780099472421
Free Home Delivery
on all orders
Pick up orders
from local bookshops
Reviews
Showing 1 - 5 of 7 reviews.
Previous | Next
Review by devenish
16/06/2015
Part three of this massive twelve part saga begins in the Ufford Hotel with a meeting between Nick Jenkins and his Uncle Giles.As in the two previous volumes,little really happens apart from meetings,parties and various other social events. It is in the byplay between the characters and in the beautifully described set-pieces that the books seem to really come to life.Just a point in case you are confused by the sequence. If you are reading the series in paperback or other individual volumes,then they number from 1 to 12. However you have the books in 'the seasons' sequence,then of course you will read them in 1 to 4.
Review by fraxi
16/06/2015
The first volume of Dance to the Music of Time, another 11 to go. Will I read them? Yes.Powell is writing about a different world, one of large houses with servants, cooks etc. Army types, City types, sons at boarding school then Oxbridge. First impressions count, your background and wealth even more. Already the main characters are starting to emerge, leaving you wondering how and when they will meet up again, under what circumstances, and how they will interact. Intriguing.
Review by Eyejaybee
16/06/2015
This is the third volume in Powell's immense roman fleuve,"A Dance to The Music of Time" and we have moved on to the early 1930s. (Though never explicitly stated, I assume that this volume is set around 1932 or 1933, based upon the oblique references to Mussolini and the hunger marches to London.) As always with "A Dance to the Music of Time" there is relatively little action but through Powell's customary delicate admixture, a few social set pieces are worked up to a potent melange of wry observation, outright humour and the odd undercurrent of melancholia.The book opens with Nicholas Jenkins (about whom we learn as little as we have managed to eke from the previous two volumes) visiting the Ufford Hotel in Bayswater for tea with his Uncle Giles, always rather a lost soul meandering through life with no aim or hope. As they finish their tea they are joined by one of Giles's fellow guests at the hotel, the esoteric-looking Myra Erdleigh. She is certainly more flamboyant that most of Uncle Giles's acquaintances, and Jenkins is initially drawn to her. It turns out that she has rather a reputation as a fortune teller, and is persuaded to "put out the cards" for both Nick and his uncle. She seems to divine some aspects of Jenkins's life including the fact that he had recently had a novel published. This is news to the reader - although the novel is often described as an autobiographical sequence, and is narrated by the character of Jenkins, we learn next to nothing about him. Mrs Erdleigh mentions a woman with whom Jenkins will become close, and also refers to a struggle involving one old man and two younger ones which will cause Jenkins himself considerable angst. This sets the scene for much of what will follow throughout the rest of the book.We are then treated to description of a dinner at the Ritz, a weekend away in the country and then an Old Etonians' reunion dinner, also at the Ritz. At the latter event we are treated to the re-emergence of both Widmerpool, absent for the rest of the book, and Charles Stringham. Widmerpool may have been absent for the greater part of the book but he makes up for this when he does finally appear. His intervention in the final chapter is characteristically bizarre, and provokes considerable mirth among many of his fellow guests, but the thirst for power and advancement is still as pressing as ever."Wryly observed and beautifully written" is starting to sound like a bit of a mantra when it comes to Powell, but the reason phrases become clichés is because they are true.
Review by mlbelize
16/06/2015
I love this quote: "In the break-up of a marriage the world inclines to take the side of the partner with most vitality, rather than the one apparently least to blame." This is so sad but so true.
Review by isabelx
16/06/2015
Umfraville returned to the room. He watched the completion of the game in silence. It was won by Barnby. Then he spoke. 'I have a proposition to make,' he said. 'I got on to Milly Andriadis just now on the telephone and told her we were all coming round to see her.'My first thought was that I must not make a habit of arriving with a gang of friends at Mrs. Andriadis's house as an uninvited guest; even at intervals of three or four years. A moment later I saw the absurdity of such diflidence, because, apart from any other consideration, she would not have the faintest remembrance of ever having met me before.The story starts in 1931, so the depression has begun, but Nick isn't really affected, although there are casual mentions of people he knows having lost money due to 'the slump'. The dance metaphonr is not only relevant to the way people come in and out of each other's life over the years, but also to the way the story flits from social event to social event, with hardly a mention of Nick's work or home life. The one time he does go to a business meeting (at the Ritz of all places) he ditches the meeting in favour of going to dinner with his old school friend Templer. Nothing ever seems to happen to Nick, and we usually find out about events in the other characters' lives at second hand, when Nick catches up with the gossip at yet another social gathering.The way Nick portrays things, his circle flit about in their upper middle class world with hardly any interaction with the lower classes, so it comes as a surprise with Dick Umfraville chats to Mrs Andriadis's maid Ethel as if she is a real person. I have also noticed that Nick's descriptions of the people around him can be quite extreme and unrealistic, describing Mona as being 'like some savage creature, anxious to keep up appearances before members of a more highly civilised society' which doesn't really sync with anything she actually does, but provides a big contrast to Nick's own colourless personality.