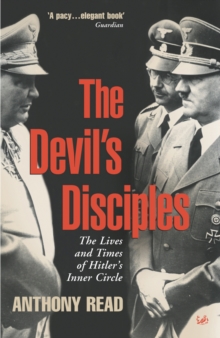 Devil's Disciples
Paperback
Description
The Nazi regime was essentially a religious cult, relying on the hypnotic personality of one man, Adolf Hitler, and it was fated to die with him.
But while it lasted, his closest lieutenants competed ferociously for power and position as his chosen successor.
This deadly contest accounted for many of the regime's worst excesses, in which millions of people died, and which brought Western civilization to its knees.
The Devil's Disciples is the first major book for a general readership to examine those lieutenants, not only as individuals but also as a group.
It focuses on the three Nazi paladins closest to Hitler - Goring, Goebbels and Himmler - with their nearest rivals - Bormann, Speer and Ribbentrop in close attendance.
Others who were removed in various ways - like Gregor Strasser, Ernst R-hm, Heydrich and Hess - play supporting roles.
Perceptive and illuminating, The Devil's Disciples is above all a powerful chronological narrative, showing how the personalities of Hitler's inner circle developed and how their jealousies and constant intrigues affected the regime, the war, and Hitler himself.
Information
Format: Paperback
Pages: 1008 pages
Publisher: Vintage Publishing
Publication Date: 01/08/2004
Category: European history
ISBN: 9780712664165
Free Home Delivery
on all orders
Pick up orders
from local bookshops
Reviews
Showing 1 - 1 of 1 reviews.
Review by drmaf
16/06/2015
A gripping account of the rise and fall of a group of ambitious men who hitched themselves heart and soul to Hitler's star, rose to unimaginable heights, and then paid a terrible price. It shows that these grandiose figures who exercised life and death over millions almost all came from very humble backgrounds, and had Hitler never been born, probably would have lived out their lives in petty ignominy. The exception being Goering, who was of aristocratic stock, was a brave and decorated airman during WWI, and it seems to be implied, had the wherewithal and gifts to have made something of himself. That he didnt, that he surrendered to Hitler's siren song, and ended up in the court in Nuremberg as an overweight, drug-addicted, serial self-justifier accused of unspeakable crimes comes across as one of the great tragedies of the book. The others are shown for what they are, petty, scheming, untrustworthy, continually trying to pull each other down, and no sympathy is extended to them. A great read, recommended for anyone who really wants to know how the Nazi inner sanctum operated.