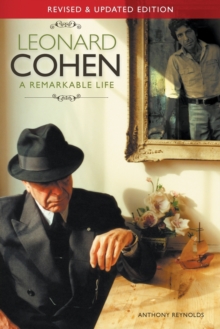 Leonard Cohen : A Remarkable Life
Paperback
Description
Leonard Cohen: A Remarkable Life tells the story of the life, loves and work of Leonard Cohen, the poet, songwriter and singer 'born with the gift of a golden voice.' As the man himself once dryly put it.Anthony Reynolds' fascinating and detailed biography draws on scores of new interviews conducted with Cohen's band members past and present, his business associates, editors, friends, fans, producers, colleagues, enemies and peers. As well as their revealing accounts, the author has gained access to hours of previously unpublished interviews with Cohen as well as video archive recordings from several decades.
The book also includes an authoritative summary of every Cohen album, with insights and recollections supplied from the musicians who appeared on the recordings. Gradually, despite Cohen's own good-natured evasiveness over the past 40 years, a surprisingly frank portrait begins to emerge of the legendary figure who commands unparalleled loyalty from his fans and followers, young and old. From the distant days of his penniless beginnings as a much-praised poet in Montreal, through the travels, affairs and religious crisis to his latest tours, Cohen's extraordinary life and body of work is examined as never before. The book includes many previously unpublished photographs.
Information
Format: Paperback
Pages: 304 pages, ill
Publisher: Omnibus Press
Publication Date: 01/09/2011
Category: Rock & Pop music
ISBN: 9781780381596
Free Home Delivery
on all orders
Pick up orders
from local bookshops
Reviews
Showing 1 - 1 of 1 reviews.
Interesting, but I sense the definitive biography of LC has yet been written. As I know so little about his early life, it was useful to gather a few facts from the mashup of people's memories to give some sense of the extraordinary person I consider LC to be. Reynolds makes an effort to at least write to match his subject, but I suspect that real information has become unclear because you are never sure exactly where Reynolds has derived it from. The few time-related errors I picked up on made me wonder about the validity of the entire work. It is a decent enough starting point of an artist that is most certainly not "straight out of a box" and whose songwriting became a means to survival. But there are many bittersweet moments recalled, LC's infatuation with Nico comes to mind--but if anything, all you really need to know about LC is right there in his own words, for me it was more about putting them into some kind of chronological order with a time & a place. Enjoyable, but flawed.
Also by Anthony Reynolds