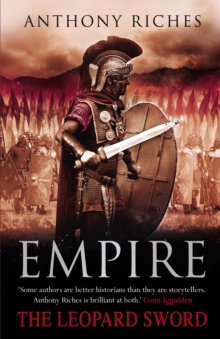 The Leopard Sword : Empire v. 4
Paperback
Part of the Empire series
Description
'A master of the genre' The TimesBritannia has been subdued - and an epic new chapter in Marcus Valerius Aquila's life begins. The murderous Roman agents who nearly captured Marcus have been defeated by his friends.
But in order to protect those very friends from the wrath of the emperor, he must leave the province which has been giving him shelter.
As Marcus Tribulus Corvus, centurion of the second Tungrian auxiliary cohort, he leads his men from Hadrian's Wall to the Tungrians' original home in Germania Inferior.
There he finds a very different world from the turbulent British frontier - but one with its own dangers.
Tungrorum, the center of a once-prosperous farming province, a city already broght low by the ravages of the eastern plague that has swept through the empire, is now threatened by an outbreak of brutally violent robbery.
A bandit chieftain called Obduro, his identity always hidden behind an iron cavalry helmet, is robbing and killing with impunity.
His sword - sharper, stronger and more deadly than any known to the Roman army - is the lethal symbol of his unstoppable power. And now he has moved beyond mere theft and threatens to destabilize the whole northern frontier of the empire ...'Some authors are better historians than they are storytellers. Anthony Riches is brilliant at both.' Conn Iggulden
Information
Format: Paperback
Pages: 400 pages
Publisher: Hodder & Stoughton General Division
Publication Date: 25/10/2012
Category: Historical fiction
ISBN: 9781444711844
Free Home Delivery
on all orders
Pick up orders
from local bookshops
Reviews
Showing 1 - 1 of 1 reviews.
Review by DWWilkin
16/06/2015
Marcus has made it to Book 4 and we are promised by the end many more. Now however he is out of Britain, and this becomes puzzling in that the adversary here that the man we know is the hero of the story, is the Centurion, out of all his choice of officers to look into, that needs to be investigated to the point that he learns Marcus' secret. Riches falls into this trap that he believes his tale of the comic book like Marcus needs to be full of this dark past that must haunt his character in every tale. Not so. It is old now and wearing thin. Only appearing here to be filler when it was completely not needed to the tale. The plot twists and devices that the book already has was more than enough to make a strong read. Here, on the edges of the Empire, there is more than enough intrigue to provide a fertile field of action and adventure with out the added nonsense that the protagonist has lugging around behind him.The subplot of Julius, one of Marcus companions, could have been given even a stronger emphasis and we could have been allowed some indication that Marcus need not be the only person in near 2000 soldiers of Rome who can figure out a mystery. Riches though loses points for continuing to make his hero unbelievable at the expense of those where things could have been quite believable.Once more, if you would like to read the exploits of the GOD like, comic book like superhero that is Marcus, this is for you.