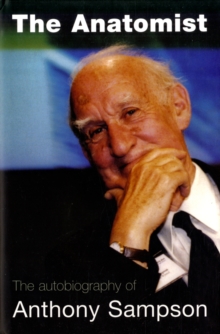 Description
Anthony Sampson was one of the greatest journalists and writers on contemporary affairs of the 20th century - most famous for his "Anatomy of Britain", for his official and magnificent biography of Mandela, and for his life-time commitment to the ending of apartheid in South Africa.
In 1951 he went to work in South Africa on "Drum" magazine, beginning a life-long commitment to a country divided by race.
Four years later he was working for the "Observer" under the legendary David Astor, and there wrote the unique "Anatomy of Britain", which changed the mould of political writing for ever.A stream of bestsellers followed on major world topics: big business; the oil trade; the international arms trade; world banking; corporate life; and, important updates to the original Anatomy, culminating in "Who Runs this Pace?" in 2004.
Sampson, however, never missed an opportunity to return to South Africa, which was in many ways his spiritual home.
He witnessed the major events that finally led to the end of apartheid and the triumph of Nelson Mandela. Mandela wrote on the death of Anthony Sampson in December 2004: 'he was in many ways so English and in many ways so African - he never stopped caring about Africa', a fitting and apt epitaph for one of the great investigative journalists of his generation.
Information
Format: Hardback
Pages: 416 pages, Illustrations
Publisher: Methuen Publishing Ltd
Publication Date: 01/08/2008
Category: Autobiography: general
ISBN: 9781842752296