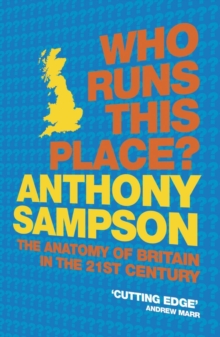 Who Runs This Place?
Paperback
Description
These familiar questions are now far more topical and urgent.
The peaks of both government and finance have become far more concentrated and isolated; checks and balances have become much weaker; the costs of wrong decisions have often proved disastrous to the public.Anthony Sampson has spent forty years dissecting the power-structure, with unique access to people at the top, to produce his best-selling Anatomies of Britain.
Now in this intensely topical book, he surveys a much more troubled scene with more anger and impatience.
He looks at the whole panoply of power, from an embattled Number Ten to the murky intelligence spooks, from corporate boardrooms to banks and pension funds.
Everywhere he talks to the people who really know their inside workings.Who Runs This Place? is written not just for those inside the Westminster Bubble. It is addressed in fresh and vivid terms to those who need to understand the institutions and careers they are choosing, and the bosses who will influence their whole future. And it comes at a time when the British people are clamouring to comprehend the secretive groups that pull the levers, behind the facades. It is essential reading.
Information
Format: Paperback
Pages: 448 pages, line drawings
Publisher: Hodder & Stoughton General Division
Publication Date: 01/01/2005
Category: Politics & government
ISBN: 9780719565663
Free Home Delivery
on all orders
Pick up orders
from local bookshops
Reviews
Showing 1 - 1 of 1 reviews.
Review by ablueidol
16/06/2015
I have been reading versions of this book since the 70's when the interlocking tribes of the establishment were as exotic as reading about South Sea Islands to a lad from slums and sink council estates. Over the years, I have become a participant in many of the tribes described as I get involved in developing policy and tracking individuals as they move up and around the system. I often see the human face of the key players and the support they draw thus seeing the web of influence of why a decision is made. On the whole I am amazed that the country manages to be run as talent, dedication, vision, are not the reasons why many individuals raise to the top, Its often, ability to network, knowing what the power holders want to know, writing and communication of breadth ( rarely depth), avoiding risk, ability to spin and talk-up and being born or married into the key establishment network. Or having the luck to be at the begining of a new network.Sour grapes? Well I long ago when faced with the choice of changing the world or having people know that you have changed the world, I went with the first as you can get more change if you let others think that it was their idea!