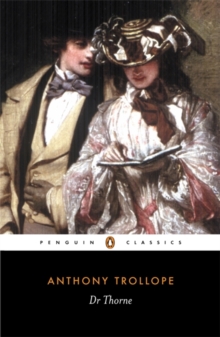 Description
Son of a bankrupt landowner, Frank Gresham is intent on marrying his beloved Mary Thorne, despite her illegitimacy and apparent poverty.
Frank's ambitious mother and haughty aunt are set against the match, however, and push him to save the family's mortgaged estate by making a good marriage to a wealthy heiress.
Only Mary's loving uncle, Dr Thorne, knows the secret of her birth and the fortune she is to inherit that will make her socially acceptable in the eyes of Frank's family - but the high-principled doctor believes she should be accepted on her own terms.
A telling examination of the relationship between society, money and morality, Dr Thorne (1858) is enduringly popular for Trollope's affectionate depiction of rural English life and his deceptively simple portrayal of human nature.
Information
Format: Paperback
Pages: 608 pages
Publisher: Penguin Books Ltd
Publication Date: 25/04/1991
Category: Classic fiction (pre c 1945)
ISBN: 9780140433265
Other Formats
Paperback from £2.50
Hardback from £8.89
CD-Audio from £24.35
EPUB from £2.99
Paperback / softback from £10.99
PDF from £8.50
Free Home Delivery
on all orders
Pick up orders
from local bookshops
Reviews
Showing 1 - 5 of 7 reviews.
Previous | Next
Review by CatyM
16/06/2015
Frank loves Mary. Mary loves Frank. Frank's father is broke and aristocratic. Frank needs to marry money, and lots of it. Mary is broke and illegitimate. Frank's mother refuses to have Mary in the house. Mary's uncle is rich and dying and holds the mortgage on Frank's father's estate. But no-one knows that he is Mary's uncle. Least of all Mary.The plot is straightforward, but that doesn't matter. There are numerous tiny twists and turns wending sinuously through the book, keeping it moving along. The characters are wonderful, and the sub-plots are wonderful. (I was laughing aloud at the account of the Barchester election, the feud between Drs Thorne and Fillgrave, and at the unfortunate Miss Gushing turning Methodist.) The writing is wonderful. In fact, the whole book is wonderful and now <i>I</i> am gushing.
Review by DavidGreene
16/06/2015
Includes a moving description of the alcoholic Sir Roger Scatcherd. The Doctor struggles to find a balance between professional responsibility, compassion and enabling in Sir Roger's dramatic death scene.
Review by startingover
16/06/2015
I love Trollope. I won't argue with those people who claim that Charles Dickens was far more talented than Trollope, but I can't argee with those who claim that Trollope is dull. The world he recreates is essentially a cosy one, but I find his characters more recognisable than the larger-than-life ones Dickens creates. Anyway, on to the book. The story really concerns the doctor's niece, whose genteel upbringing and manners aren't quite enough to compensate for the fact that she was born illegitimately.From the start of the book we are aware that she and Frank Gresham are in love, but Frank's landowner father has left the estate in such dire straits that all Frank hears is that he must, absolutely must, 'marry money'.Mary is effectively banned from Frank's presence, as being neither rich enough nor high-born enough to be considered a suitable bride for Frank. Frank, however, remains true to Mary, despite all the bullying from his parents.This is not a king and beggarmaid story, however. Mary inherits a vast fortune from her mother's brother, wealthy drunkard Roger Scatcherd. Naturally, as an heiress she at once becomes a suitable match for Frank, except to those for whom her base birth remains an insurmountable obstacle. It would of course leave a sour taste in the mouth if Frank had rejected her whilst she was poor, or when he learnt of her illegitimacy. Frank kept faith with Mary, and his reward is that he does indeed get to 'marry money'. [April 2005]
Review by brenzi
16/06/2015
The third book in Trollope's <u>Chronicles of Barsetshire</u> series had the same effect on me as the first two: I was lulled into a stupor of pleasant reverie while simultaneously fuming at an intolerable injustice. And just like the first two books, Trollope was happy to let me in on every single secret so that every possible plot twist and the probable ending were known to me well in advance. You have no fear of spoilers here. Trollope does the spoiling himself, making it pretty clear early on what ending you can expect. So what's a modern reader, totally unschooled in this kind of storytelling, to do? Go with the flow, folks, go with the flow. It doesn't really matter. The key to Trollope, in my estimation anyway, is his clever and complicated character sketches. Poor Mary (you'll repeat that a couple hundred times during the course of the narrative), born of questionable parentage but brought up lovingly by her uncle the eponymous doctor, is in love with the upper class heir to the Greshamsbury estate, Frank Gresham. And Frank is in love with her even if she is penniless. But Frank's father is in deep debt and Frank has to "marry money," otherwise how will he keep the wolf from the door and who will save Greshamsbury? After all, his sister is willing to forego a marriage based on love and, instead, "marry money", and no less is expected from Frank. Really, much more is expected from him. But he is insisting on Mary and no one else. So you know without any further ado, that something (or someone) is going to intervene to make this storybook romance come true. And before long you know exactly how it will come about. And you know all this with at least half of the 600 page book left to read. The rest of the book is spent twisting and turning its way to the ultimate conclusion. Mary sums up the main theme of the book this way:<i>"She said to herself, proudly, that God's handiwork was the inner man, the inner woman, the naked creature animated by a living soul; that all other adjuncts were but man's clothing for the creature; all others, whether stitched by tailors or contrived by kings. Was it not within her capacity to do as nobly, to love as truly, to worship her God in heaven with as perfect a faith, and her god on earth with as leal a troth, as though blood had descended to her purely through scores of purely born progenitors?" (Page 133)</i>Ahhh lovely sentiments and true of course. Mary is certainly good enough for Frank and marrying for money seldom works out well. The problem is that at this time in England, it was pretty much impossible for someone with Mary's sketchy background to marry someone of Frank's long family heritage. Unless……well, an enormous fortune might make a difference. But I'm not going to spoil it for you. I'll let Mr. Trollope do that and you won't even mind. Highly recommended.
Review by jmoncton
16/06/2015
This is the 3rd in Anthony Trollope's Chronicles of Barchester, and my favorite (so far). Dr. Thorne lives with his niece Mary in the English village of Greshamsbury which is dominated by the wealthy Gresham family. Frank, the heir of the Gresham estate, has fallen in love with Mary Thorne, but circumstances have doomed their future. The Gresham family has fallen into heavy debt and Frank needs to save the family by marrying a wealthy heiress. Unfortunately, not only does Mary no have a fortune, she is the illegitimate child of Dr. Thorne's dead brother. With humor and satire, Trollope unfolds a charming Victorian novel that gently criticizes the social values of class and birth. Excellently read by Simon Vance.