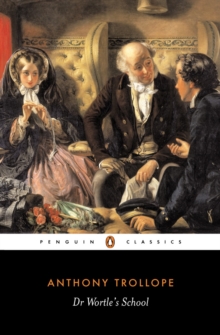 Dr Wortle's School
Paperback
Description
Mr Peacocke, a Classical scholar, has come to Broughtonshire with his beautiful American wife to live as a schoolmaster.
But when the blackmailing brother of her first husband - a reprobate from Louisiana - appears at the school gates, a dreadful secret is revealed and the county is scandalized.
Ostracised by the community, the pair seem trapped in a hopeless situation - until the combative but warm-hearted headmaster of the school, Dr Wortle, offers his support, and Mr Peacocke embarks upon a journey to America that he hopes will lay to rest the accusations once and for all.
A perceptive exploration of Victorian morality, Dr Wortle's School (1881) also contains echoes of Trollope's own life, and his personal affection for the vivacious Bostonian Kate Field.
Information
Format: Paperback
Pages: 256 pages
Publisher: Penguin Books Ltd
Publication Date: 29/04/1999
ISBN: 9780140434040
Other Formats
Hardback from £13.79
EPUB from £1.07
Paperback / softback from £8.91
Paperback from £7.00
Free Home Delivery
on all orders
Pick up orders
from local bookshops
Reviews
Showing 1 - 3 of 3 reviews.
Review by dsc73277
16/06/2015
This is not a review in any meaningful sense of the term, but I do have a few observations about this book.Despite being only a little over two hundred pages in length, the style is somewhat long-winded in places, as is often the case with Victorian novels. The letters that are reproduced may seem incredibly long to those of us more familiar with the brevity of much modern communcation, but the professional classes then had fewer distractions than we do now, and in the case of the comfortably-off Dr Wortle also had staff running around after them, so affording the time for lengthy correspondence.Dr Wortle often appears pompous and strong-willed, but he also demonstrates a quite modern liberality towards the Peacockes, the couple whose moral dilemma is the central theme of the novel. The minor sub-plot about his daughter's marriage prospects seemed to be developed rather late in the book and, to me, ended up seeming rushed and somewhat out of place. I was not aware of any particular effort to contrast her circumstances with those of the Peacockes and hence ended up wondering whether this element had been added because the author had fallen short of the number of words or chapters promised to his publisher?
Review by stillatim
16/06/2015
Surly but goodhearted rector, morally rigid but kind clergyman, long-suffering bishop, nosy and irritating evangelical woman, innocent young woman, love story, moral controversy in a provincial diocese, self-aware and charmingly intrusive narrator... yep, this is the Barsetshire Chronicles in about 5% of the pages. And that's a great thing! The book has some of same flaws as the Chronicles- it's sometimes needlessly repetitive and occasionally long-winded. And unfortunately many of the characters can't be fleshed out too well, since the book's only 200 pages long. Also, seeing a Trollopean character criss-cross America and [spoiler alert!] nearly engage in a gunfight is a little silly, but also great fun.
Review by pgchuis
10/11/2015
Dr Wortle employs at his exclusive boys' prep school a Mr and Mrs Peacocke. Mr Peacocke met his American wife in St Louis and they do not socialize with the families around them. It transpires that the couple married after Mrs Peacocke's first husband died, but after 6 months said husband returned, very much still alive, only to disappear again after a day. Mr Peacocke refused to allow his wife to leave him and they came to England and have been living as husband and wife, but, of course, bigamously.Dr Wortle, to the surprise even of his wife, refuses to condemn the couple, even though his school, relationship with his bishop and personal standing all suffer. The distinction between refusing to condemn and not even acknowledging that wrong has been done (because this is more or less the position Dr Wortle takes, claiming he would have done the same) is pointed out by a fellow clergyman, Mr Puddicombe. Mrs Wortle is very amusing in her complete inability to imagine herself ever being in Mrs Peacocke's position. This being Trollope, it is all resolved happily, but I am deducting half a star for the Mary Wortle/Lord Carstairs romance, which is underwritten and completely unnecessary.