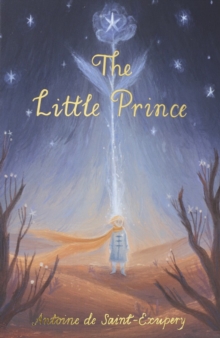 The Little Prince
Paperback
Description
Translated by Irene Testot-Ferry. The Little Prince is a classic tale of equal appeal to children and adults.
On one level it is the story of an airman's discovery, in the desert, of a small boy from another planet - the Little Prince of the title - and his stories of intergalactic travel, while on the other hand it is a thought-provoking allegory of the human condition. First published in 1943, the year before the author's death in action, this translation contains Saint-Exupery's delightful illustrations.
Information
Format: Paperback
Pages: 112 pages
Publisher: Wordsworth Editions Ltd
Publication Date: 05/06/1995
Category: Classic
ISBN: 9781853261589
Other Formats
Hardback from £5.95
Mixed media product from £11.19
Paperback from £2.50
CD-Audio from £7.15
Postcard book or pack from £15.79
EPUB from £7.19
Paperback / softback from £6.95
Free Home Delivery
on all orders
Pick up orders
from local bookshops
Reviews
Showing 1 - 4 of 4 reviews.
Review by 1morechapter
16/06/2015
The Little Prince is a charming story written by Antoine de Saint-Exupéry. A pilot has crashed his plane and is stranded in the desert, where he meets a little prince from another planet. The prince tells the pilot about his planet and of the people he has met on other planets. Many lessons can be learned of the stories he tells.This is a great book for children and adults. It is inspired by the author's own crash in the Sahara desert as well as other personal events. The illustrations were beautifully done by the author. Highly recommended!
Review by Steve55
16/06/2015
Antoine De Saint Exupéry was a French airman killed in action one year after this book was published in 1944. The Little Prince is a book for children and adults alike. By way of introduction, Saint Exupéry describes a picture he carries around with him of a boa constrictor eating an elephant and how adults who see the world through adult eyes, are blind to what the picture really is. They see only a picture of a hat. The book contains a simple story, simply told of how, in our adult lives at least, we live seeing only what we are able to see. It tells the tale of an airman who makes a forced landing in a desert where he meets the Little Prince of the title. The Little Prince has also fallen from the sky, but this time from another planet. The story follows the prince and narrator as they journey around the planets meeting a procession of people who see their worlds their way. We for example meet the conceited man, the king, the accountant, the drunkard, the geographer and the lamplighter, each serves as a parable for a way of adult thinking and seeing. It's a simple, poignant, thought provoking and insightful book that everyone should read as a child, to share how you see the world, and far more importantly as an adult to understand how much you have lost and how blind you have become, and perhaps how you might re-open your eyes. Simply brilliant.
Review by ShutterBugSara.T
16/06/2015
The little prince is the story of a young "boy" from another planet whom is discovered by an airman stranded in the dessert. The Little prince tells him of his intergalactic travels and those he meets along the way. I did not enjoy this book at all. It was sad, confusing, and at times not suitable for children. Most of the tones in the book are written towards children but they have a deeper meaning that only adults will pick up on. While it was a short read it was not always easy. The language was easy enough to read but the plot was choppy and bizarre. I was disappointed. Everyone told they loved this book. Why didn't I?
Review by iligos
16/06/2015
Also by Antoine De Saint-Exupery | View all
Also in the Wordsworth Children's Classics series | View all