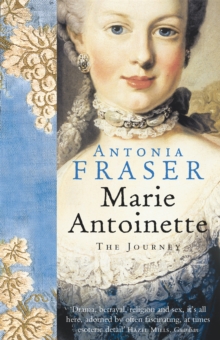 Marie Antoinette
Paperback
Description
'Drama, betrayal, religion and sex, it's all here ...Fascinating' GUARDIAN 'Beautifully paced, impeccably written ...Don't miss it' INDEPENDENT 'Fraser is at her best here, lucid, authoritative and compassionate' SUNDAY TIMES 'Superbly researched ...the definitive work on the ill-fated queen' CATHOLIC HERALD Marie Antoinette's dramatic life-story continues to arouse mixed emotions.
To many people, she is still 'la reine mechante', whose extravagance and frivolity helped to bring down the French monarchy; her indifference to popular suffering epitomised by the (apocryphal) words: 'let them eat cake'.
Others are equally passionate in her defence: to them, she is a victim of misogyny. Antonia Fraser examines her influence over the king, Louis XVI, the accusations and sexual slurs made against her, her patronage of the arts which enhanced French cultural life, her imprisonment, the death threats made against her, rumours of lesbian affairs, her trial (during which her young son was forced to testify to sexual abuse by his mother) and her eventual execution by guillotine in 1793.
Information
Format: Paperback
Pages: 656 pages, 48
Publisher: Orion Publishing Co
Publication Date: 01/05/2002
ISBN: 9780753813058
Free Home Delivery
on all orders
Pick up orders
from local bookshops
Reviews
Showing 1 - 4 of 4 reviews.
Review by cabegley
16/06/2015
As a kid, I really enjoyed biographies, but I have only just gotten back into reading them recently. I have particularly fallen in love with Claire Tomalin, whose biographies of Jane Austen and Samuel Pepys captivated me over the past few years. Antonia Fraser didn't grab me with that same intensity, but her biography of Marie Antoinette was solid, if light on in-depth analysis and broader context.Fraser paints an extremely sympathetic portrait of Marie Antoinette, a caring family woman who was dreadfully wronged and maligned in her time and for the over 200 years since her violent death. While I would have preferred a more balanced look at the Queen's life (while she surely wasn't the sole, or even a major, cause of France's economic woes in the latter part of the 18th century, Marie Antoinette's lavish spending and her attempts to forward Austria's interests in French politics certainly didn't help matters), I appreciated the side of the story I did get. Married off to the French Dauphin at the age of 14, the youngest Archduchess of Austria was sent by carriage away from her beloved family, home, and friends to a 16-year-old husband who vastly preferred hunting to being with his new wife. Living in a highly ritualized, rigid court existence where her every move was watched--some to copy, and others to condemn--Marie Antoinette endured the humiliation of seven years of unconsummated marriage that was earnestly discussed by everyone from her mother (in scolding letters to her) to the pamphleteers (who speculated, wrongly, on her finding sexual consolation with many of the men and women of her inner circle). Is it any wonder she turned to an increasingly frantic party lifestyle?When Marie Antoinette and the mild, indecisive Louis XVI finally became truly man and wife three years or so into his reign, and (most importantly) started producing heirs, their domestic tranquility would have turned them into no more than a brief paragraph in French history if not for the Revolution. It was only under extreme adversity that Marie Antoinette came into her own, showing strength and courage through four long years of terror.Fraser's epilogue lays out the analysis that I longed to have ongoing in the book, which was filled instead with too many portents of doom ("In her enjoyment of Figaro, Marie Antoinette could not imagine the consequences to her personally of the piece's wild popularity . . .") for my taste. And I longed for a timeline and a "Cast of Characters" to help me keep everything straight. All in all, though, Ms. Fraser's exhaustive research makes this a worthwhile read.
Review by riverwillow
16/06/2015
As always Antonia Fraser has delivered an interesting and well-researched insight into her subject. Marie Antoinette must be one of the most misunderstood and misrepresented historical figures.
Review by Suva
16/06/2015
Fraser's biography is often described as sympathetic to Antoinette, which at once tells us that this is something notable enough to somehow distinguish it. Marie Antoinette is still a figure who is loved and hated. When Sofia Coppola's film based on this book first premiered in Cannes both cheers and boos were heard from the audience. It may be true that Fraser does give us a portrait that focuses more on the sinned against than sinning aspects of her life, but I would think anyone, especially the mothers among them, would find it hard not to feel sorry for Antoinette throughout most of the book.Even though the queen spent the last four years of her life in captivity, it seems as if her life was not her own from birth. She was unlucky in many ways and was made a scapegoat for some of the massive problems France faced at the end of the eighteenth century. Fraser tells us that Antoinette's tomb is behind black metal bars with the French fleur de lis surmounting them. If any sight could claim to summarise Marie Antoinette's life, Fraser's well compiled biography suggests that there is no better one than this.
Review by Fluffyblue
16/06/2015
This was initially a good, fast read, but as I got further into the book I found myself tiring of Marie Antoinette and wanting to read something else. It became a bit of a chore. I was disappointed because I'd always had an interest in finding out more about her since I saw a documentary on Blue Peter was I was very young.