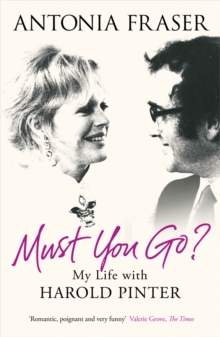 Must You Go? : My Life with Harold Pinter
Paperback
Description
A unique testimony to modern literature's most celebrated and enduring marriage.'I first saw Harold across a crowded room, but it was lunchtime, not some enchanted evening, and we did not speak.'When Antonia Fraser met Harold Pinter she was a celebrated biographer and he was Britain's finest playwright.
Both were already married - Pinter to the actress Vivien Merchant and Fraser to the politician Hugh Fraser - but their union seemed inevitable from the moment they met: 'I would have found you somehow', Pinter told Fraser.
Their relationship flourished until Pinter's death on Christmas Eve 2008 and was a source of delight and inspiration to them both until the very end.
Fraser uses her Diaries and her own recollections to tell a touching love story. But this is also a memoir of a partnership between two of the greatest literary talents, with fascinating glimpses into their creativity and their illustrious circle of friends from the literary, political and theatrical world.
Information
Format: Paperback
Pages: 400 pages
Publisher: Orion Publishing Co
Publication Date: 01/03/2011
Category: Memoirs
ISBN: 9780753828786
Free Home Delivery
on all orders
Pick up orders
from local bookshops
Reviews
Showing 1 - 1 of 1 reviews.
Review by Bookoholic73
16/06/2015
This is a very good way to get an insight into somebody´s life without the guilt of reading somebody else´s diary. Well written, an easy, illuminating and for me also inspiring read. Must you go is a moving story of two people who obviously were deeply in love with each other, and managed to have a beautiful friendship and relationship for thirty years. That these two people were among the best known authors in modern Brittain certainly adds another dimension to the book, and of course, that they, especially HP, also were taking very active stand for their political beliefs made me to reflect on the world events as well, and this was a good exercise for me. Also, I love the theatre, so for me, the insights into some of the most talked about plays, playwrites and performances was a bonus. Some of the things I found inspiring: Antonia´s father telling her on her 63rd birthday, that at this age Winston Churchill had yet to become the Prime Minister. In our age, that is so focused on youth and young looking people, this is something we should remind ourselves of often. Harold´s committment to the plays and also to his convictions, even when very ill, was extremely touching and inspiring. And how Harold and Antonia, together with their friends and family, took pleasure of literature together- performing plays, reading poems etc. I wish I had AF´s confidence when she described how somebody met her and HP and continued, "naturally, they were delighed to meet us" - that sentence made me laugh out loud. And a catty comment, there is a small mistake in the book -Nobel day is NOT on the 7th of December:), but on the 10th. But, this aside, this book made me think, laugh, and cry -and plan to read more poetry, as well as biographies. For light reading, I am very happy with this book.