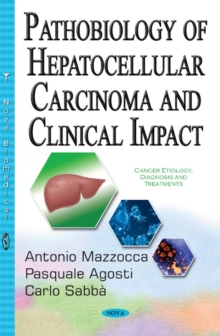 Pathobiology of Hepatocellular Carcinoma & Clinical Impact
Paperback / softback
Description
This book offers a comprehensive review on hepatocellular carcinoma (HCC) with a particular focus on the relationship between the pathobiology of disease and the clinical aspects including diagnosis and treatment.
HCC is becoming one of the most common causes of cancer related death worldwide and is predicted to be the third leading cause of cancer death by 2030.
In recent years, the epidemiology of this tumor has undergone a major change, a revolution considering the increased incidence of HCC on NASH and NAFLD in patients with metabolic risk factors.
We are witnessing the emergence of new cancer risk factors and new pre-cancerous conditions, especially in countries with a Western lifestyle.
Many exciting discoveries in the field of pathogenesis and mechanisms of carcinogenesis have taken place in recent years, including findings from tumor interactions with the host and the microenvironment.
This book aims to provide researchers, medical students and clinicians with a valuable resource for complete and up-to-date research on the pathogenesis of HCC by providing a link between biology and natural history of the disease with clinical implications, including diagnosis, prognosis and therapy.
This book offers an in-depth knowledge of HCC pathobiology as well as hints for developing new experimental research lines aiming to improve the understanding and management of the disease, and to prevent the increase of incidence and mortality expected in 2030.
Information
Format: Paperback / softback
Pages: 100 pages
Publisher: Nova Science Publishers Inc
Publication Date: 01/12/2016
Category: Oncology
ISBN: 9781536100020
Free Home Delivery
on all orders
Pick up orders
from local bookshops