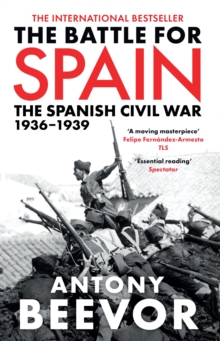 The Battle for Spain : The Spanish Civil War 1936-1939
Paperback
Description
The bestselling author of STALINGRAD and BERLIN: THE DOWNFALL on the Spanish Civil War, drawing on masses of newly discovered material from the Spanish, Russian and German archives.The civil war that tore Spain apart between 1936 and 1939 and attracted liberals and socialists from across the world to support the cause against Franco was one of the most hard-fought and bitterest conflicts of the 20th century: a war of atrocities and political genocide and a military testing ground before WWII for the Russians, Italians and Germans, whose Condor Legion so notoriously destroyed Guernica.Antony Beevor's account narrates the origins of the Civil War and its violent and dramatic course from the coup d'etat in July 1936 through the savage fighting of the next three years which ended in catastrophic defeat for the Republicans in 1939. And he succeeds especially well in unravelling the complex political and regional forces that played such an important part in the origins and history of the war.
Information
Format: Paperback
Pages: 624 pages, 12 Maps
Publisher: Orion Publishing Co
Publication Date: 24/05/2007
Category: European history
ISBN: 9780753821657
Free Home Delivery
on all orders
Pick up orders
from local bookshops
Reviews
Showing 1 - 1 of 1 reviews.
Review by mackthefinger
16/06/2015
Engrossing account of the civil war that plagued Spain from 36-39. It took a while to get into, because its not just the Red's v Fascists - the battles between the rival factions within these were often as bloody. There's a whole swathe of acronymns of groups and personalities involved, and it does take a while to get used to who's who. This wasn't a war I knew much about, other than a little about Guernica and the involvement of writers such as Orwell and Hemingway, so it was great to learn more.Obviously the slaughter and reprisals, and the bombing of innocents was horrific, but what I also found disturbing was the non-interventionist policies of countries such as Britain and the USA in applying arms-embargos to what was a democratically elected republican government. The Catholic Church was also happy to back Franco, though this came as less of a shock.I didn't find it just as enthralling as 'Berlin' or 'Stalingrad' by the same author - too often the book seemed to get bogged down in a detailed description of military manoueveres. But he displays the same skills he showed in those titles in terms of giving an overview of how the war affected all sections of Spain, as well as the life of the individual. A difficult book about a harrowing subject but an essential read if you want to know more about Spains dark past.