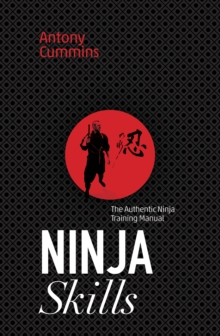 Ninja Skills : The Authentic Ninja Training Manual
Paperback / softback
Description
THE ULTIMATE ILLUSTRATED GUIDE TO THE ORIGINAL NINJA TEACHINGSThere is much to learn from the ninja, Japan's devious and courageous spy-commandos, who followed a highly skilled and dangerous path.
For the first time ever, this manual presents the authentic techniques, recorded in the scrolls of historical Japanese ninja (shinobi), as a course of 150 illustrated, "how-to" lessons that debunk ninja myths and draw the reader straight into a shadowy and exciting world of espionage, infiltration and warfare.
The infamous ninja - expert commando, secret agent, maverick who operates outside social norms - is the object of fascination all over the world, yet much of what is presented as ninja fact is distorted or wrong.
In fact, the truth about the ninja is so much more complex and intriguing than the Hollywood cliches.
We may think, for example, of a ninja as being always clothed in black and fighting with "throwing stars", but a real ninja would have used a number of disguises in colours suitable for different situations, and his arsenal could have included anything from poison and fire-creating tools to swords, spears and knives.
The 150 lessons in this book cover all the basics of ninja warcraft, including clever infiltration ideas (from pretending to be a noisy animal to using ropes, ladders and fake letters and passwords), escape techniques such as the raccoon-dog retreat, which involves a sudden halt to trip up a pursuer, a variety of communication methods, from codes and ciphers to arrow letters to conch-shell signals, and a whole range of specialist tools, from shoes made of boards for crossing marshes to the "flying" ladder.
The description is made all the more vivid by step-by-step photographs of the secret ninja skills, diagrams outlining military tactics and beautiful samples of Japanese calligraphy.
Information
Format: Paperback / softback
Pages: 224 pages
Publisher: Watkins Media
Publication Date: 13/03/2018
Category: Military history
ISBN: 9781786780621