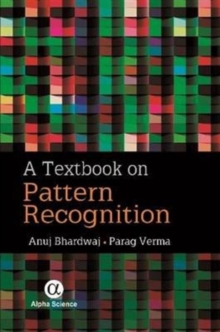 Textbook on Pattern Recognition
Hardback
Description
A TEXTBOOK ON PATTERN RECOGNITION presents both classical and current theoretical foundation of pattern recognition and practice of supervised, unsupervised and reinforces learning to build a complete background of professionals and engineering students.
Every pattern of the image and design cycles has been discussed in detail through illustrative examples and applications.
The very latest method are incorporated in this text book including k-mean clustering, k-nearest neighborhood methods etc. Coverage of Learning & Adaptation, Design Cycle of Pattern Recognition Algorithms have been presented in step by step in illustration of the same in problems. Probability distribution function with Cumulative & Uniform PDF methods Coverage of Optical Character recognition, face recognition, and speech recognition and image analysis.
The information is clearly presented and illustrated by many examples and applications and is designed for use as a text for course in pattern recognition for both undergraduate and post graduate engineering students.
Information
Format: Hardback
Pages: 122 pages
Publisher: Alpha Science International Ltd
Publication Date: 30/01/2015
Category: Pattern recognition
ISBN: 9781842658406