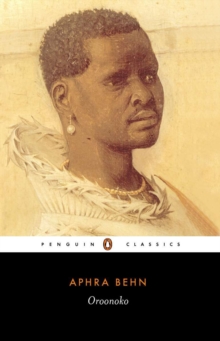 Oroonoko : Or the History of the Royal Slave
Paperback
Description
Restoration-era poet, playwright and novelist Aphra Behn was the first truly professional woman writer in English, and Oroonoko is her sophisticated and insightful condemnation of slavery.
This Penguin Classics edition is edited with an introduction by Janet Todd. When Prince Oroonoko's passion for the virtuous Imoinda arouses the jealousy of his grandfather, the lovers are cast into slavery and transported from Africa to the colony of Surinam. Oroonoko's noble bearing soon wins the respect of his English captors, but his struggle for freedom brings about his destruction.
Inspired by Aphra Behn's visit to Surinam, Oroonoko reflects the author's romantic view of native peoples as noble savages in 'the first state of innocence, before man knew how to sin'.
The novel also reveals Behn's ambiguous attitude to African slavery - while she favoured it as a means to strengthen England's rule, her powerful and moving work conveys its injustice and brutality. This new edition of Oroonoko is based on the first printed version of 1688, and includes a chronology, further reading and notes. In her introduction, Janet Todd examines Aphra Behn's views of slavery, colonization and politics, and her position as a professional woman writer in the Restoration. Little is known of Aphra Behn's (1640-1689) early life.
She was probably born in Kent, and in the early 1660s claims to have visited the British colony of Surinam.
She turned to literature for a living, producing numerous short stories, 19 stage plays and political propaganda for the Tories. If you enjoyed Oroonoko, you might like Daniel Defoe's Moll Flanders, also available in Penguin Classics.
Information
Format: Paperback
Pages: 144 pages
Publisher: Penguin Books Ltd
Publication Date: 30/10/2003
Category: Classic fiction (pre c 1945)
ISBN: 9780140439885
Other Formats
Paperback / softback from £13.59
Free Home Delivery
on all orders
Pick up orders
from local bookshops
Reviews
Showing 1 - 5 of 7 reviews.
Previous | Next
Review by heina
16/06/2015
A telling portrayal of European fetishization and exoticization of Africa and the East, the melodrama definitely dates this work. Still, it's interesting the context of Behn's life and times, and is a worthy read for the sake of historicity.
Review by PinkPandaParade
16/06/2015
Aphra Behn's Oroonoko is theorized in style and format to possibly be one of the first novels in English, connecting the worlds of Europe, Africa, and America in a tale that is common in plot but uncommon in character. Written by the so-called "bad girl" of her time, Behn's novel explores firs the foreign world of Coramantien and its royalty. The title character of the Royal Prince then finds himself with soldiers and war captains with the natives of Surinam, and then with its colonists. Separated in different social classes, the main character, who is black, is deemed royalty in one world, and slave in another. This is just one the main dualities presented in this text. Race, social class, gender, age, life and death all play a part in this manuscript. The interesting story makes definite commentary on the role of women and of religion as shown by the contrast in cultures. Oroonoko, while not an immediately likable character in his stoicism, is given the effect of reader appeal through the other characters in the text. His love interest, Imoinda, shines. Dismissed during its publishing as vulgar and sensational because of the author's "warm" attitude toward sexuality and violence, Oroonoko is now placed among the treasures of British literature. Its value as a story, a novel, and a commentary of social life and slavery is highly valuable.Oroonoko is one of the only known novels written by this author, who has yet to be fully discovered and publicized. For a long while, Behn was negatively criticized for both her work and her social life outside of her writing. She was also notorious for her torrid relationships with other well-known people of her time, and for working a provocative job as a spy. She changed the definition of feminine in presenting works where women are objects subjugated to male carnal desire, and punished for going outside this subjugated sphere. She champions the female as a deliberately sexual being who is punished for being so. Other works of hers include a large work of poetry that is slowly finding its way into mainstream literature anthologies. Her contributions to both prose and poetry have contributed greatly to feminism and to literature.
Review by MeditationesMartini
16/06/2015
Aphra Behn's enchanting story of movements, encounters and the uneasy existence of parallel worlds may not be "the first novel in English", but it is haunting and magisterial. The mythic world, the dreamy nobility and nightmarish cruelty of Oroonoko's own, almost entirely fictitious, Africa; the grim politics of put-money-in-thy-purse Europe, ruining everything it touches, and the ignoble Europeans, creatures of vicious cunning; the clear-lit paradise of Suriname, full of doomed children, the natives, and novel little creatures of all sorts that make as good eating for real as the people and their land will in metaphor (meatphor).<br><p>Things get out of control when those worlds start bleeding into each other--Oroonoko and Imoinda too noble for plantation slavery, the Indians too naive to resist it, the Europeans too venal to do honour to their religious ideals, the remnants of their ancient, noble, savage selves. And the stigmata thereof appear everywhere--on the self-mutilation of the native generals, on the piece of flesh that Oroonoko cuts from his throat and flings at the slavers, but also on the beautiful scarification that his people inflict on one another, that stark and redblooded art. In the deadly vengeance the Europeans take, certainly, but also in the ambiguous fecundity of Imoinda's body, the pregnancy that turns slavery into war and self-destruction, the nobility of cutting off your nose to spite your face. The promise of the future and birth and growth that all these men fight over, the fear of losing possession of it and in it losing oneself. The eternal last word of negative capability, of self-hurt, and the sad nobility therein. We destroy ourselves to show the world who we are.<br><p>Certainly not an anti-slavery story as such, then, but an anti-degradation story, anti-besmirching of that delicate inner rightness we call human dignity. Economic systems and political systems have a logic, and it will win out over truth and beauty. But Prince Oroonoko doesn't need to die to prove it any more than Charles I did. It's a story that exalts the aristocrat, but it exalts him <i>as amore fully developed human</i>. And as such, of course, it's unavoidably an anti-slavery story too, whatever Behn would have said.
Review by Kaydence
16/06/2015
"Oroonoko" by Aphra Behn, is an interesting case mixing two oppressed types of people. The narrative is told by a woman with some social standing; however, women of this time are not included in any decision making or influential places of power. They are considered property of their husbands or caretakers, even if the family is well off and the female may be allowed to travel with companions. The narrator often states that she tries to help the main character and sympathizes with his plight, but has no chance of saving him from the punishments placed down upon him. She also is sent away whenever there may be trouble. Oroonoko is also oppressed. He is a black male, which regardless of his royal status, is still considered a lesser being during this time period. The story may indulge in his heroic activities, his beauty, his strength as a leader and a fighter, but it also does not seem to state that he being enslaved is an offence against nature. In fact, even from the words of Oroonoko, he seems to be content with his situation until he finds out that Imoinda is pregnant. He is never happy being a slave, but he does not set up an opposition against it outright until the thought of his children in slavery changes him. Polk points out that at first he was not in favor of relating to Oroonoko because of the narrators description of him being a black male that had many white features. Polk found that to be distasteful because it encourages the distinguishing of a lighter black man being more attractive and having a higher status in life than a darker black man. However, after reading an article, Polk begins to look at Oroonoko differently. He begins to see Oroonoko through stages of identity development. The first stage shows that Oroonoko is influenced by the wit of white men. He sees them as being more intelligent and more powerful than a black man. He perpetuates the oppression of black men by fancying the intellect of a white man more than a black man. This is shown by his friendships with the man that captures him into slavery and the Frenchman that he defeats in battle. The next step in the development of his identity is brought about by a huge change in his life. This change is the promise of a child. When Oroonoko thinks that his child will be born into slavery, a change in his thoughts occurs and he no longer thinks as kindly towards his oppressors. The next stage comes when Oroonoko embraces being a black man. He shows this by his speeches to first encourage the other slaves to rise in rebellion and then in his fighting for freedom. Even through his speech when the other slaves abandon him and he calls them names, he is still accepting himself as a black individual. He dies before moving into the next step of his development. However, Polk finds that the smoking of a pipe even as he is being cut into pieces symbolizes a rise above those that torment him. He supplies that smoking the pipe is hiding a smile or smirk.
Review by Kristelh
16/06/2015
A story of slavery. written in 1688, this 17th century literature is remarkable in its telling of a tale of Oroonoko and Imoinda, their love, the grandfather king who put his own lust above his grandson and heir to his own detriment, the tribe and to Oroonoko and Imoinda. Oroonoko comes to distrust the God of Christians because the Christian is never honest but he continues to try and be patient. He finally can stand things no longer and chooses freedom to his own destruction at the hands of his Christian captives.