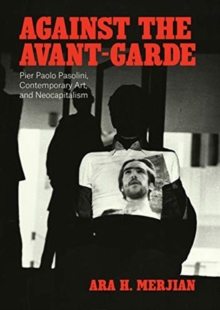 Against the Avant-Garde : Pier Paolo Pasolini, Contemporary Art, and Neocapitalism
Hardback
Description
Recognized in America chiefly for his films, Pier Paolo Pasolini (1922-1975) in fact reinvented interdisciplinarity in post-war Europe.
Pasolini self-confessedly approached the cinematic image through painting, and the numerous allusions to early modern frescoes and altarpieces in his films have been extensively documented.
Far less understood, however, is Pasolini's fraught relationship to the aesthetic experiments of his own age.
In Against the Avant-Garde, Ara H. Merjian demonstrates how Pasolini's campaign against neocapitalist culture fueled his hostility to the avant-garde.
An atheist indebted to Catholic ritual; a revolutionary Communist inimical to the creed of 1968; a homosexual hostile to the project of gay liberation: Pasolini refused the politics of identity in favor of a scandalously paradoxical practice, one vital to any understanding of his legacy.
Against the Avant-Garde examines these paradoxes through case studies from the 1960s and 70s, concluding with a reflection on Pasolini's far-reaching influence on post-1970s art.
Merjian not only reconsiders the multifaceted work of Italy's most prominent post-war intellectual, but also the fraught politics of a European neo-avant-garde grappling with a new capitalist hegemony.