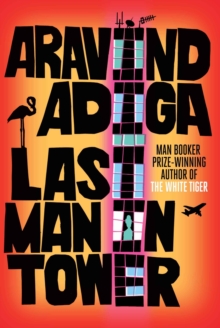 Last Man in Tower
Hardback
Description
Ask any Bombaywallah about Vishram Society - Tower A of the Vishram Co-operative Housing Society - and you will be told that it is unimpeachably pucca.
Despite its location close to the airport, under the flight path of 747s and bordered by slums, it has been pucca for some fifty years.
But Bombay has changed in half a century - not least its name - and the world in which Tower A was first built is giving way to a new city; a Mumbai of development and new money; of wealthy Indians returning with fortunes made abroad.When real estate developer Dharmen Shah offers to buy out the residents of Vishram Society, planning to use the site to build a luxury apartment complex, his offer is more than generous.
Initially, though, not everyone wants to leave; many of the residents have lived in Vishram for years, many of them are no longer young.
But none can benefit from the offer unless all agree to sell.
As tensions rise among the once civil neighbours, one by one those who oppose the offer give way to the majority, until only one man stands in Shah's way: Masterji, a retired schoolteacher, once the most respected man in the building.
Shah is a dangerous man to refuse, but as the demolition deadline looms, Masterji's neighbours - friends who have become enemies, acquaintances turned co-conspirators - may stop at nothing to score their payday.A suspense-filled story of money and power, luxury and deprivation; a rich tapestry peopled by unforgettable characters, not least of which is Bombay itself, Last Man in Tower opens up the hearts and minds of the inhabitants of a great city - ordinary people pushed to their limits in a place that knows none.
Information
Format: Hardback
Pages: 432 pages
Publisher: Atlantic Books
Publication Date: 01/06/2011
ISBN: 9781848875166
Free Home Delivery
on all orders
Pick up orders
from local bookshops
Reviews
Showing 1 - 2 of 2 reviews.
Review by Cariola
16/06/2015
I picked up this book because 1) I enjoyed Adiga's first novel, <i>The White Tiger</i>, and 2) the synopsis reminded me of several other books I've enjoyed that center on the residents of an Indian apartment complex, notably Manil Suri's <i>The Death of Vishnu</i>. At first, the novel seems to fall into a similar category, revealing the various personlities and daily interactions of the diverse residents with a wry humor. But their generally peaceful relationships are disrupted by the offer from a developer who wants to tear down Tower A and Tower B. Initially, most of the residents of Tower A want to accept what seems to be a generous offer; but a few holdouts either suspect the builder's honesty or see no reason to leave the place where they have lived contentedly. The problem is that, under their rules, 100% of the residents must agree to sell. Using first logic, then legal technicalities, then bullying and rumors, then threats, the builder's henchman and the residents persuade all but one man to sign the agreement. At this point, any humor that remains is very dark, indeed.Adiga seems to be making a comment about the extent of human greed, especially in a cramped former 'third world' city (Mumbai) where prosperity has flourished more rapidly than such values as morality, empathy, justice, and a sense of community can allow. Tower A began to remind me of a colony of rats trapped in a sewer, climbing over one another to reach the only means of escape and resorting to the most primitive enactment of survival of the fittest. It's to Adiga's credit that he creates characters that are, initially, so likable, as this only makes the metamorphoses wrought by greed more despicable. His epilogue shows that, sadly, these changes were more than tranistory--perhaps a reflection on the changes success is bringing to the national character. If there is any light for humanity in the ending, it is in the fact that one character, over the course of what occurs, seems to have found a conscience.While I wouldn't rate <i>Last Man in Tower</i> as a "must read" book, readers who enjoyed <i>The White Tiger</i> or any of the many other books written in recent years that deal with the changing economic, social, and political landscape of modern India would probably find it worth their time.
Review by hemlokgang
16/06/2015
While reading this book I harrumphed, cringed, guffawed, held my breath, and sighed in relief. This is a tale of poverty vs. power, of both the courage and frailty of the human spirit, and about aging alone. As graphic and powerful as the imagery of Mumbai life is in this novel, I think the values which are tested in these characters are universal, and the effort to survive and maintain integrity is also universal. Excellent read!