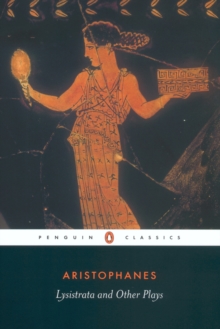 Lysistrata and Other Plays
Paperback
Description
Collecting three comedies that show Aristophanes tackling the consequences of war and social upheaval in Athens with his characteristic wit, Lysistrata and Other Plays is translated from the Greek with an introduction and notes by Alan H.
Sommerstein in Penguin Classics.Writing at a time of political and social crisis in Athens, Aristophanes was an eloquent, yet bawdy challenger to the demagogue and the sophist.
In Lysistrata, the titular heroine persuades the women of Greece to withhold sex from their husbands, forcing them to end the Peloponnesian War; and in The Archanians, a lone peasant enters into a private peace treaty with the Spartans, much to the chagrin of his fellow Athenians.
The darker comedy of The Clouds satirises Athenian philosophers, Socrates in particular, and reflects the uncertainties of a generation in which all traditional religious and ethical beliefs were being challenged.For this edition Alan H.
Sommerstein has completely revised his translation of the three plays, bringing out the full nuances of Aristophanes' ribald humour and intricate wordplay, with a new introduction explaining the historical and cultural background to the plays.Aristophanes (c.445-386 BC) was probably born in Athens.
Little is known about his life, but there is a portrait of him in Plato's Symposium.
He was twice threatened with prosecution in the 420s for his outspoken attacks on the prominent politician Cleon, but in 405 he was publicly honoured and crowned for promoting Athenian civic unity in The Frogs.
Aristophanes had his first comedy produced when he was about twenty-one, and wrote forty plays in all.
The eleven surviving plays of Aristophanes are published in the Penguin Classics series as The Birds and Other Plays, Lysistrata and Other Plays, The Wasps and Other Plays and The Frogs and Other Plays.If you enjoyed Lysistrata and Other Plays, you might like Aristophanes' The Birds and Other Plays, also available in Penguin Classics.
Information
Format: Paperback
Pages: 304 pages
Publisher: Penguin Books Ltd
Publication Date: 30/01/2003
Category: Plays, playscripts
ISBN: 9780140448146
Other Formats
EPUB from £2.99
Paperback / softback from £5.99
Paperback from £1.99
Free Home Delivery
on all orders
Pick up orders
from local bookshops
Reviews
Showing 1 - 3 of 3 reviews.
Review by chriszodrow
16/06/2015
Review by saturnloft
16/06/2015
This book contains 3 plays: The Acharnians, a play dealing with the conflict between Athens and Sparta and the need for resolution;Clouds, a black comedy that mercilessly skewers Socrates and his school of philosophy; & Lysistrata, the raunchy classic in which the women of Greece refuse to grant any sexual favors until their men end the Peloponnesian War.Anyone trying to translate the plays of Aristophanes has his work cut out for him. Puns are hard to convey from one language to another, and these plays are chock-full of them. Not to mention a host of inside jokes regarding politicians, other playwrights, and notable figures. Not to mention a Greek truckload of phallological and scatological humor (Seriously, the Farrelly brothers have nothing on Aristophanes).Despite these difficulties, Alan Somerstein does an admirable job with his translation and the notes are extremely helpful in clarifying some of the more obscure jokes. The only thing I really had trouble with is when the Spartans & Megarians take on Scottish accents. It just did not work for me.
Review by Bruce_Deming
02/03/2016
Humorous. The women are po'ed that the men keep going to war so decide to withhold sex from their men till they make peace and stay home. Bit melo dramatic.