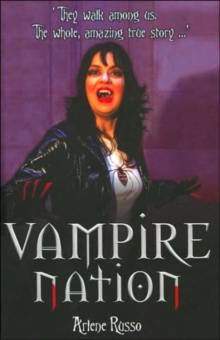 Description
For most people vampires are the stuff of Hammer Horror and ghoulish folklore, few realise that there is a thriving UK vampire scene that reaches back into our history as well into everyday life from vampire weddings to the drinking of real blood.
Their shadowy secrets have remained hidden from public gaze...until now.
From the revelation that Robin Hood was a vampire, to the startling discovery that Prince Charles is directly descended from Vlad the Impaler, Vampire Nation teams with toe-curling true tales of how vampire culture is taking the country by storm.
Arlene Russo, the UK's foremost vampire expert, has interviewed dozens of real life vampires for this blood-curdling tome.
She reveals the strange rituals and rites of vampire lore and the grisly truth behind genuine vampire killings.
Hold onto your crucifix and sharpen your fangs, this is the ultimate trip into the undead...
Information
Format: Hardback
Pages: 288 pages, 8pp illustrations
Publisher: John Blake Publishing Ltd
Publication Date: 05/10/2005
Category: Popular culture
ISBN: 9781844541720