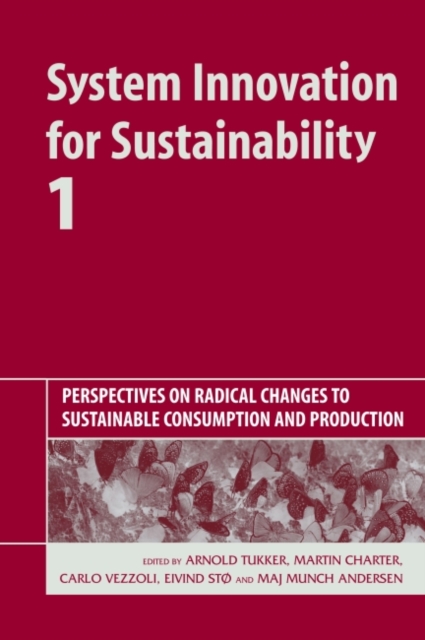 System Innovation for Sustainability 1 : Perspectives on Radical Changes to Sustainable Consumption and Production
Hardback
Description
Sustainable consumption and production (SCP) was adopted as a priority area during the World Summit on Sustainable Development in Johannesburg in 2002 and has since become one of the main vehicles for targeting international sustainability policy.
Sustainable consumption focuses on formulating equitable strategies that foster the highest quality of life, the efficient use of natural resources, and the effective satisfaction of human needs while simultaneously promoting equitable social development, economic competitiveness, and technological innovation.
But this is a complex topic and, as the challenges of sustainability grow larger, there is a need to re-imagine how SCP policies can be formulated, governed and implemented. The EU-funded project "Sustainable Consumption Research Exchanges" (SCORE!) consists of around 200 experts in the field of sustainable innovation and sustainable consumption.
The SCORE! philosophy is that innovation in SCP policy can be achieved only if experts that understand business development, (sustainable) solution design, consumer behaviour and system innovation policy work together in shaping it.
Sustainable technology design can be effective only if business can profitably make the products and consumers are attracted to them.
To understand how this might effectively happen, the expertise of systems thinkers must be added to the mix. System Innovation for Sustainability 1 is the first result of a unique positive confrontation between experts from all four communities.
It examines what SCP is and what it could be, provides a state-of-the-art review on the governance of change in SCP policy and looks at the strengths and weaknesses of current approaches.
The SCORE! experts are working with actors in industry, consumer groups and eco-labelling organisations in the key consumption areas of mobility, food and agriculture, and energy use and housing – responsible for 70% of the life-cycle environmental impacts of Western societies – with the aim of stimulating, fostering or forcing change to SCP theory in practice.
The System Innovation for Sustainability series will continue with three further volumes of comprehensive case studies in each of these three critical consumption areas. Each chapter of this book examines problems and suggests solutions from a business, design, consumer and system innovation perspective.
It primarily examines the differing solutions necessary in the consumer economies of the West, but also comments on the differing needs in rapidly emerging economies such as China, as well as base-of-the-pyramid economies. The System Innovation for Sustainability series is the fruit of the only major international research network on SCP and will set the standard in this field for some years to come.
It will be required reading for all involved in the policy debate on sustainable production and consumption from government, business, academia and NGOs for designers, scientists, businesses and system innovators.
Information
Format:Hardback
Pages:470 pages
Publisher:Taylor & Francis Ltd
Publication Date:01/03/2008
Category:
ISBN:9781906093037
Information
Format:Hardback
Pages:470 pages
Publisher:Taylor & Francis Ltd
Publication Date:01/03/2008
Category:
ISBN:9781906093037