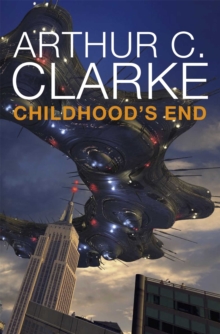 Childhood's End
Paperback
Description
Earth has become a Utopia, guided by a strange unseen people from outer space whose staggering powers have eradicated war, cruelty, poverty and racial inequality.
When the 'Overlords' finally reveal themselves, their horrific form makes little impression.
Then comes the sign that the Overlords have been waiting for.
A child begins to dream strangely - and develops remarkable powers.
Soon this happens to every child - and the truth of the Overlords' mission is finally revealed to the human race...
Information
Format: Paperback
Pages: 208 pages
Publisher: Pan Macmillan
Publication Date: 30/04/2010
Category: Science fiction
ISBN: 9780330514019
Other Formats
Hardback from £10.99
EPUB from £4.99
Paperback from £6.55
CD-Audio from £15.45
Free Home Delivery
on all orders
Pick up orders
from local bookshops
Reviews
Showing 1 - 1 of 1 reviews.
Review by BenDV
16/06/2015
Though I had my reservations about Clarke's 2001: A Space Odyssey (and Kubrick's film just didn't appeal to me all that much), it was strong enough to make me keen to pick up another one of his works. Childhood's End, consensus seems to say, is the next best place to go. The novel has three main features; psychic abilities, super-intelligent aliens and a warning to mankind. Yet oddly, Clarke states in the introduction that he doesn't believe in the existence of psychics or super-intelligent aliens in UFOs (at least, he didn't later in life) and he never agreed with the novel's main idea, that 'the stars are not for Man', which rather makes me wonder what inspired him to write the book in the first place. Basically, this species of super-intelligent aliens called the Overlords arrive on Earth in the early twenty-first century and usher in a utopia, bringing peace, justice and an end to poverty. But no one knows there exact purpose, and then they start showing interest in human ideas about psychic abilities; the events of the novel are heavily influenced by these. It's certainly not the sort of realistic science-fiction Clarke is more known for; most of the technology is not explained in detail and isn't all that important to the story. The focus is more on ideas than on science.Childhood's End is a novel with less negative points than 2001, but it also has less plus points, making for a generally less memorable experience. This is a bit of a shame, because actually the story of Childhood's End is more interesting than that of 2001, at least in my view. But Clarke was clearly not as accomplished a writer at this point, and so the execution is perhaps not what it could have been.The main negative is basically the same as in 2001; Clarke has no interest in making complex human characters. People, in Clarke's novels, are a means to an end, to tell a story and express ideas, not an end in themselves. So there's no great detail about all of the people, just enough for Clarke to move his story along in the way he wants. It isn't as bad as in 2001, but I still didn't feel myself as emotionally involved in the characters problems as I may have been if I had cared about them more. Also odd is the length of time Clarke focuses on the early period of the Overlords rule when everyone was obsessed with what they looked like, and the Overlords wouldn't make this clear. Personally I felt this was an unimportant point, but Clarke spends a quarter of the novel focusing on this period. It ultimately has some importance, but there was little tension in these sections. But Childhood's End has some big positives as well. I loved the detail he gives on the Utopian Earth the Overlords create. For one a world where you are in education until your thirties, where money is meaningless and everyone follows their passions in life, sounds great to me. But I don't think that, in such a world, all creative enterprises, especially all forms of art, would die away as Clarke thinks they would. Clarke thinks that a lack of conflict and pain in the world would deprive artists of motivation and inspiration. Firstly, despite Clarke's claim that these too faded away, there will always be silly tortured romances for people to draw on in all fields. But I also think that, in literature for instance, genres like high fantasy, historical drama, alternative history and science-fiction would become more popular, even if other genres like mystery would fade away. And even if the Overlords did possess so much technology beyond human comprehension, I doubt our curiosity that drives invention and science would die.Also, despite the fact that Clarke himself disagrees with the message, the novel's warning that 'the stars are not for man' is one I agree with. As the head Overlord of Earth, Karellen, states; if man cannot run a functioning society on a single planet without threatening his own destruction, how on earth could we deal with the enormous complexities going into the solar system or beyond would lead us to face? Of course the Overlords don't just mean organisational problems; there's also the various surprises the Universe would throw at us. That's leaving aside the fact that I doubt the energy sources to get us off this planet and to somewhere else exist.As the length of this review shows, Clarke was successful in his main aims with this novel; it got me thinking a lot, and Clarke's imaginative ideas are the main reason for that. So despite its flaws, Childhood's End gets the seal from approval from me, and keeps me keen to read more of Clarke's novels.