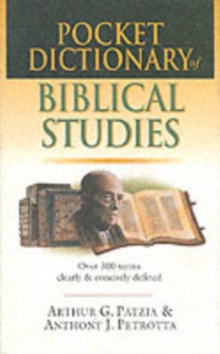 Pocket Dictionary of Biblical Studies
Paperback / softback
Description
"I sat through my first biblical studies class wondering just what the professor was talking about!" Have you ever heard that line?
It happens, and it could happen to you. So many words about the Word. The study of anything seems to generate its own special vocabulary.
Biblical studies is no different, and it's got nearly a two-thousand-year lead on you!
How to catch up? That's the question. Not even your church history professor can help you here.
If you are puzzled by parataxis or rankled by recensions, the Pocket Dictionary of Biblical Studies is just the thing for you.
Whether you are studying Old Testament or New Testament or both at once, this is your private tutor, your ever-ready guide to over three hundred biblical-studies terms.
Here's your glossary for reading those textbooks, a decoder for listening to lectures, a crib sheet for cramming for finals and a help key for writing those papers. Types of biblical criticism, from genre criticism to tradition criticism Latin terms, from agrapha to vaticinium ex eventu German terms, from Frukatholizismus to Wissenschaft Ancient texts, from Aleppo Codex to Zadokite Document Literary features, from acrostic to woe oracle Theories, from the Augustinian hypothesis to the Yahwist source Textual criticism terms, from codex to Western text
Information
Format: Paperback / softback
Pages: 128 pages
Publisher: SPCK Publishing
Publication Date: 21/06/2002
Category: Reference works
ISBN: 9780851112688
Free Home Delivery
on all orders
Pick up orders
from local bookshops
Also by Arthur G. Patzia