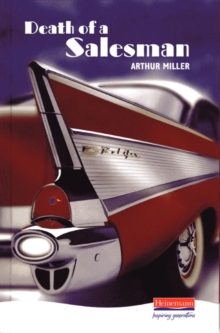 Death of a Salesman
Hardback
Description
The Heinemann Plays series offers contemporary drama and classic plays in durable classroom editions.
Many have large casts and an equal mix of boy and girl parts.
This modern tragedy concerns a salesman who, at the end of his life, is forced to face its futility and failure.
Information
Format: Hardback
Pages: 144 pages
Publisher: Pearson Education Limited
Publication Date: 18/03/1994
Category: Plays, playscripts
ISBN: 9780435233075
Other Formats
Paperback from £2.99
EPUB from £4.99
Hardback from £19.25
PDF from £8.54
Free Home Delivery
on all orders
Pick up orders
from local bookshops
Reviews
Showing 1 - 5 of 8 reviews.
Previous | Next
Review by LisaMaria_C
16/06/2015
When I was in high school, we were told <i>the</i> great American playwrights were Eugene O'Neil, Tennessee Williams and Arthur Miller, and <i>Death of a Salesman</i> Miller's greatest play. Well, I'd give my teacher two out of that three. I've always found Miller both preachy and underwhelming. <i>All His Sons</i>, the other play by Miller taught me in high school always seemed rather crude in its moral message, and rather a so what. I admit I do have a soft spot for Miller's one historic play, <i>The Crucible</i>, even if it's metaphor for McCarthyism is rather transparent. But I just can't reading Miller compare his turgid lines to the beauty and piercing intensity of O'Neil and Williams and put him into the same category. Their language soars--Miller is definitely pedestrian. One could say that suits the subject of this, his most famous play, the iconic Willy Loman. The bottom line of the play can be expressed in a line by his wife: "Attention, attention must finally be paid to such a person." Willy is supposed to be an American everyman--a traveling vacuum cleaner salesman. The play is supposed to direct our attention to the dark side and shallowness of the American dream. I admit that might be a lot of why I do feel such antipathy for the play--I feel so resistant and resentful of its message (and that I was forced to read it.) I admit this might play better on the stage and film than on the page. And I <i>do</i> recommend reading it--for reasons of cultural literacy alone.
Review by nobodhi
16/06/2015
contemporary american literature on a par with ancient greek tragedy
Review by vonze
16/06/2015
Ugh, second time I've had to read this for a college class...really depressing slice-of-life about a man in denial, who is also slowly losing his mind.
Review by locriian
16/06/2015
I hate this entire time period of art, I get that they want to portray bleakness and whatever but why would I read a whole book to experience that when I already have depression and get to feel that 90% of my life. So I GUESS it achieves it's goal. But did I like it? F no. Get out of my life Arthur miller.
Review by Annannean
27/08/2015
Oh, how <b>awful</b>. To dream so big, it's just...man, the general mood of this story kills (literally). Most people have probably walked out after the play feeling terrible and cheated. Damn, now I want to see it and feel that way. This isn't a horrible book. In fact, it's a realistic eye-opening view at a poor man's life. This is most likely a story of someone else's life and small bits of it apply to countless people living today. Even though there's a death at the end, the salesman doesn't wring any sympathy from the readers. Only his family mourn but barely because half of them are numb in the wake of this tragedy. In the pages winding up towards the death, there was no sense of dread or premonition but it wasn't sudden either. We see loud examples of the craziness and delusions of grandeur interspersed freely between the pages. A psychologically crazed man is hardly someone a reader can relate to or even remotely like and even worse, the rest of the cast barely measure up. I did feel a faint pity for the whole family who has been beaten, worn-down, and embittered by life. Well, judging from the lot of talk and arguments, they weren't silenced though, no, not by far. I liked that author had a knack for word arrangement and semantics because I could vividly imagine how the actors would utter it. Despite all the low ratings, this book delivers in all parts that make this brutally realistic and all the more intense. This unflinching slice of life deviates from the standard fairy tale quality of a story. In other words, Death of a Salesman might just as well be a non-fiction considering the lifelike appeals of all the characters and the palpable anger and 'spite' brimming on the surface.
Also in the Heinemann Plays for 14-16+ series | View all