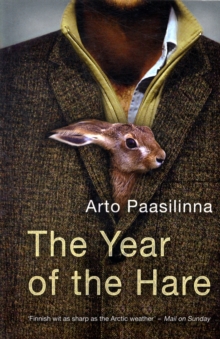 Year of the Hare
Paperback
Description
Vatanen, the journalist is feeling burned out and sick of the city.
One summer evening while on assignment his car hits a young hare on a country road.
Vatanen leaves the car to save the injured creature.
This small incident becomes a turning point in Vatanen's life as he decides to break free from the world's constraints.
He quits his job, leaves his wife, sells his possessions to travel the Finnish wilds with his new found friend.
Their adventures take in forest fires, pagan sacrifices, military war games, killer bears and much more.
Information
Format: Paperback
Pages: 140 pages
Publisher: Peter Owen Publishers
Publication Date: 30/05/2006
ISBN: 9780720612776
Other Formats
EPUB from £6.39
eAudiobook MP3 from £10.04
Free Home Delivery
on all orders
Pick up orders
from local bookshops
Reviews
Showing 1 - 4 of 4 reviews.
Review by shawnd
16/06/2015
Imagine asking American author Douglas Copeland to write a Generation X version of Waiting for Godot with action, for Northern Europe featuring a 40+ year old, with hints of Animal Farm in the vein of Thoreau and you'd perhaps have something not far from The Year of the Hare. The story is a little light in terms of standing on its own, which isn't bad considering the short volume makes a statement on many political points of view and includes representative personalities, as well as moral perspectives. Picking apart icons and showing a third-way naturalistic approach-and all the foibles of mainstream society-the story in the real world would end poorly, but the author adds magical realism where needed to keep the plot going and the reader adoring. This is a 1-2 day read but also something you could read again and deep enough to use in a contemporary European fiction college course.
Review by Apolline
16/06/2015
This book has been described as a picaresque novel, a writing style originated in Spain. This kind of novel is often satirical, and tells the humorous story of a low class hero, living by his wits in a corrupt society. Other novels mentioned from the same genre, is Miguel de Cervantes' Don Quijote.Arto Paasilinna is a well known author in Finland, and has published 35 novels in the years between 1972 and 2009. The Year of the Hare was published in 1975, and it is now translated into 23 different languages. In this book we meet the journalist Vatanen, out on a job with his photographer. They are driving through a forest, and then suddenly a hare jumps into the road. The little hare get hit by the car, and as Vatanen finds it injured, he decides to leave his old life in Helsingfors and live every day as it comes, with the hare as his companion. This incident in the forest, leads Vatanen and the hare on journey through rural parts of Finland. The novel is built up on the different people Vatanen meet on his way, the jobs he get and the absurd situations he ends up in. And whatever happens to him, also happen to the hare. Throughout the reading process I wondered a few times what the author meant with these little stories. The meaning was revealed in the end, though I found the ending rather mysterious. Not annoying mysterious, but sort of in a positive way.The language was rather simple and the book was an easy read. Fast readers will finish it in an afternoon, but it was not too short either. This was the first book I have read which is written by a Finnish author. Except from watching the Moomin, by Tove Jansson, on television as a child, I know little of Finnish literature in general. The Year of the Hare was therefore a positive surprise. To me, this was something new and fresh, even though the book is quite old. I quite liked it! As it did to the people in the book, the little hare charmed me.
Review by adrianburke
16/06/2015
I think this book is let down by the translation - the whimsy and humour needs a consistent deadpan tone and this translator's hand is leaden.
Review by jessicaofthebees
27/08/2015
Fantastic fantastic story woven into a zen scandinavian life overhaul.