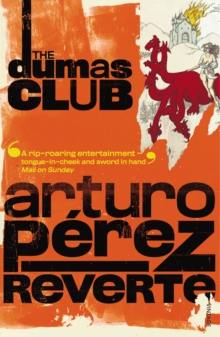 Description
A well-know bibliophile is found hanged days after selling a rare manuscript of Alexander Dumas' classic, The Three Musketeers.
Across Madrid, Spain's wealthiest book dealer has finally laid his hands on a 17th-century manual for summoning the devil.
Lucas Corso, solitary and obsessive, is the detective hired to authenticate both texts.
But the further he follows the trail of devil worship, the more it leads him back to Dumas.
He's the unwitting protagonist in someone's evil plot, but is he sleuth or hero, Sherlock Holmes or d'Artagnan?
Information
Format: Paperback
Pages: 336 pages
Publisher: Vintage Publishing
Publication Date: 01/06/1997
Category: Crime & mystery
ISBN: 9780099448594
Free Home Delivery
on all orders
Pick up orders
from local bookshops
Reviews
Showing 1 - 3 of 3 reviews.
Review by anamuk
16/06/2015
You probably need to read a little more classic detective & serial adventurestuff than I do to get the most out of it, but even so its a neat enough book.A cynical mercenary book buyer(obtainer/thief/middleman) is asked toauthenticate the "Anjou wine" chapter of the 3 musketeers whilst alsoauthenticating a 17th centuary book of how to summon the devil. Some peopleapparently don't want either to happen. It starts to get serious people die theMusketeer parallels become uncanny.Definately to be filed under phrases like "rollicking good read","Rippingliterary yarn" and "possibly too clever for its own good".
Review by Mikalina
16/06/2015
I´ll give the book one star, not because it deserves so, but in accordance with the inherent rules of accrediting books in this way. A single star shows that I have read the book, and is merely meant to illuminate my fellow reader that reading the book is waste of time.The author knows how to tickle the vanity of the professional reviewer - the literary namedropping is as astounding as it is superficial and idiosyncratic. The author is leaning heavily on the literary giant Alexandre Dumas - only to show his profound lack of understanding for Dumas¨s project. Despite showing that he knows the word "archetype" and many other words from the literary terminology, his misuse of Dumas is highly personal. He tries to use Dumas masterpiece to cover up the thin (and unbelievable and boring plot) of a dealer in antiquarian books serving as a unknowing intermediary for a rich madman, researching the authenticity of old esoteric literature, books he needs to get his hands on to practise devil worship. The thin plot is fleshed out when the hero´s research gets muddled when he gets involved in a musketeer-play put up by the leader of the 67 members of a Dumas-club owning 1 chapter each of the original script to "The Three musketeers" when chapter 42 gets lost. Most of the book is following the hero taking on the role as d´Artagnan.Sometimes I wonder whether literary critics praise works heavy with literary allusions just because they are afraid they otherwise would be thought as ignorant of the classical tradition. This book is not meta-literature or literature that merits place as part of intertextual conversation. It is fraud. The author is a mercenary in words. The one star might be merited by the fact that the books shows how empty both story and language is if the author does not, as Dumas did, know how to play by the rules. D´Artagnan in the hands of Perez-Reverte is as twisted and fallen as the valuble collection of books the villain in this story, Varo Borja, ruins at the end of the book in order to put up the circle he needs to summon the devil. And the murders committed? - they do not count for much - A kind of poetic justice is fulfilled then, when neither does Perez-Reverte´s attempt to assassin "The Three Musketeers".
Review by mickieturk
16/06/2015
Rich, dense, historical. Sometimes hard to keep up because of Reverte has us treading through a million pieces of historical fact and debate, books and interpretations. Often, the plot just slid out from under me. But I kept reading because the story was delicious.