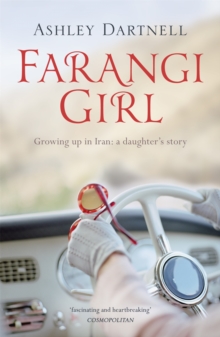 Farangi Girl : Growing Up in Iran: a Daughter's Story
Paperback
Description
Ashley Dartnell's mother was a glamorous American, her father a dashing Englishman, each trying to slough off their past and upgrade to a more romantic and exotic present in Iran.
As the story starts, Ashley is eight years old and living in Tehran in the 1960s: the Shah was in power, life for Westerners was rich and privileged.
But somehow it didn't all add up to a fairytale. There were bankruptcies and prisons, betrayals and lovers, lies and evasions. And throughout it all, Ashley's passionate and strong-willed mother, Genie.
Stories of mothers and daughters are some of the most compelling in contemporary memoir, from The Liar's Club and The Glass Castle to Don't Let's Go to the Dogs Tonight and Bad Blood.
Farangi Girl deserves to be in their company. It's an honest and endlessly recognisable portrait of a mother by a daughter who loved her (and was loved in return).Against this extraordinary background, Ashley's journey into adulthood was more helter-skelter than most and this portrait of a bewitching and endlessly inventive mother is surprising and deeply moving.
Information
Format: Paperback
Pages: 432 pages, B&W throughout
Publisher: Hodder & Stoughton General Division
Publication Date: 16/02/2012
ISBN: 9781444714715
Free Home Delivery
on all orders
Pick up orders
from local bookshops
Reviews
Showing 1 - 1 of 1 reviews.
Review by DubaiReader
16/06/2015
A childhood in Iran.As a book about Ashley Dartnell's life, growing up with careless parents and her struggles with poverty and neglect, this was a good read. However, I had hoped for more background of life in Iran at the time, and more of the 'Parties with Princes' promised by the title.Although parts of her life were spent in Iran, a large chunk was also spent in Florida with her mother, while her father remained in Iran, struggling to run his construction business. Ashley's parents couldn't live together and they couldn't live apart, and Ashley and her brothers were stuck in the middle. Mr Dartnell would help his employees financially before his family and was taken for a ride by his business partners; one of those people with a good heart that just can't seem to hold things together. Mrs Dartnell was a prima donna, her obsessions and her boy friends took priority over all else. At times there was no money for food and the children had to leave school because they could not afford the fees.In spite of this Ashely and her brothers managed to raise themselves, at times recycling glass bottles to get enough money to eat.Eventually the revolution forced them to return to The States for good and I'm sure she missed the Iran of her childhood, in spite of its ups and downs.To some degree I could relate to her experiences, as I have lived the expat life for over twenty years, although not in Iran. My life has very different, however.The frequent Farsi words used in the text were irritating, but I enjoyed the photographs at the beginning of each chapter, a nice touch.Generally, an interesting read but not one I would particularly recommend.