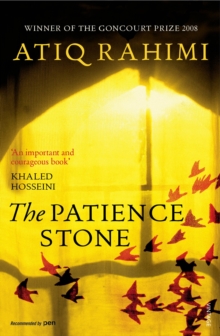 The Patience Stone
Paperback
Description
A young woman prays at her husband's bedside as he lies in a coma with a bullet in his neck.
From outside come the sounds of tanks, gunshots, screaming and, most terrifying of all, silence.
Inside, her two frightened daughters call to her from the hallway.
As she tries to keep her husband alive, the woman rages against men, war, culture, God.
Even as her mind appears to unravel, she becomes intensely clear-sighted.
Now is her chance - her first ever - to speak without being censored.
Her husband's body reminds her of the legend of the patience stone, a stone that hears all confessions until it explodes, and finally, spurred to new heights of daring, she spills out her most explosive secret.
Information
Format: Paperback
Pages: 160 pages
Publisher: Vintage Publishing
Publication Date: 01/01/2011
ISBN: 9780099539544
Other Formats
EPUB from £4.99
eAudiobook MP3 from £11.72
Free Home Delivery
on all orders
Pick up orders
from local bookshops
Reviews
Showing 1 - 2 of 2 reviews.
Review by Daftboy1
27/08/2015
Easy to read short book, A wife and Mother cares for her sick husband in Afghanistan who is a semi coma after being shot in the neck, she looks after him the best she can, Spoiler alert She tells him all her stories and also a youth comes to see her and has sex with her, Later on her husband wakes up and attacks her she then stabs him through the heart its not clear if she will survive. Different book to what I normally read.
Review by TadAD
27/08/2015
The Persian legend of the <i>sang-e sabur</i>, the Patience Stone, is that it absorbs all confessions until it bursts and frees you from all your torments. An Afghan woman sits beside her wounded, comatose husband and slowly begins to tell him her secret resentments and confessions. With each thing she reveals, she feels freer.It seems clear to me that Rahimi means this, as Khaled Hosseini says in the introduction, to be a voice for marginalized Afghan women...or, in fact, for all women who have been suppressed and silenced. The universality of the narrator's feelings is a matter for each woman to decide for herself but I think there's no question this story will evoke a reaction: outrage, affront, discomfort, empathy, whatever...depending upon the moral/social/religious makeup (and, perhaps, the gender) of the reader. What keeps it from a topmost rating is that there's an air of staginess about the story. Everything from the detailed descriptions of the set, to the noises heard offstage that give the actor something to which they respond, to the paced dialog feels as if it was written as a script rather than a novel.Yet, well worth reading. The <i>Prix Goncourt</i> committee agreed, if their taste tends to coincide with yours. Personally, I found it a single-sitting read.