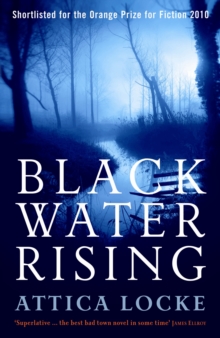 Black Water Rising
Paperback
Description
Black Water Rising was shortlisted for the Orange Prize, nominated for an Edgar Award, an NAACP Image Award and a Los Angeles Times Book Prize. On a dark night, out on the Houston bayou to celebrate his wife's birthday, Jay Porter hears a scream.
Saving a distressed woman from drowning, he opens a Pandora's Box. Not the lawyer he set out to be, Jay long ago made peace with his radical youth, tucked away his darkest sins and resolved to make a fresh start.
His impulsive act out on the bayou is heroic, but it puts Jay in danger, ensnaring him in a murder investigation that could cost him is practice, his family and even his life.
Before he can untangle the mystery that stretches to the highest reaches of corporate power, he must confront the demons of his past. A provocative thriller with an exhilarating climax, Black Water Rising marks the arrival of an electrifying new talent.
Information
Format: Paperback
Pages: 448 pages
Publisher: Profile Books Ltd
Publication Date: 15/04/2010
Category: Crime & mystery
ISBN: 9781846687532
Other Formats
EPUB from £4.79
CD-Audio from £17.95
Free Home Delivery
on all orders
Pick up orders
from local bookshops
Reviews
Showing 1 - 5 of 6 reviews.
Previous | Next
Review by JanetinLondon
16/06/2015
I thought this was a very good book. Jay Porter, a struggling lawyer, takes his wife on a poor man's version of a boat cruise along the Houston canal one night. They hear a shot, then a body falling into the water. He jumps in and rescues a woman. He assumes she is a victim and drops her outside a police station, considering his job done. But, of course, it all turns out to be much more complicated, and the plot twists and turns. He has other cases, too, and it was fun trying to figure out if, when and how they might tie together.The story is good, the descriptions are good, and there are quite a few interesting and sympathetic secondary characters. What makes this book more than usually interesting, though, is the character of Jay himself. In his student days in the '60's (the story is set in the '80's), he was a radical Black Power activist, fighting for civil rights and eventually getting involved with national figures such as Stokely Carmichael. He was arrested on a charge of conspiracy to insight violence, but one juror refused to convict him and he was set free, after which he decided to become a lawyer and continue the struggle by other means. Although he has meanwhile settled for less ambitious goals, this background has made him suspicious of the police and of powerful institutions in general, which has a strong bearing on some of his decisions as he tries to understand what is going on and decide what he should do. He's not perfect, and I sometimes wanted to shake him, but mostly I wanted him to succeed, and to make a difference for people.I had a look at other reviews on LT, and they are very mixed. Some found their lack of sympathy with Jay and/or his politics ruined the book for them, some disliked various of the other characters, some found the story too disjointed, but the general consensus was that Attica Locke is a good writer, and if you don't find this story to your taste, it is probably worth waiting to see what she writes next.
Review by bookmagic
16/06/2015
Jay Porter is a black lawyer in 1981 Houston, Texas. He has taken his wife on a boat cruise through the bayou when they hear gunshots. Jay rescues a woman from the bayou but she won't give any information. Jay does not want to get involved as he has his own criminal past that has left him with a desire to stay away from the police. He and his wife drop her off at the police station and for Jay, he hopes that is the end of it. But later, the boat's skipper is found dead and Jay does not think this is a coincidence, nor the fact that he is being followed. But things happen that lead him to get involved despite his fears.This was a fantastic read, a really great literary suspense novel. Jay is a very believable character, a former member of a black activist, civil-rights group while in college, he lost his willingness to be in the spotlight, to try to change things, after he was on trial for assault, after he was harassed by the FBI. Now Jay is a personal injury attorney, barely making a living to support him and Bernie, his very pregnant wife.The author captured the atmosphere of the novel very well; southern Texas, poor areas of Houston, the bayou where Jay first encounters the woman that may destroy him.While Jay is trying to figure out what happened in the bayou, he is also being pulled into union politics. His father-in-law is Reverend Boykins and wants Jay to help the black longshoreman who are ready to strike until the receive the same wages and opportunities as their white counterparts. Jay really wants no part of it, but the reverend guilts him into helping. This adds to the suspense as there may be a link between the man following him and a young black man beat up after a union meeting.Adding into the mix is the mayor, Cynthia Maddox, a white woman that Jay was involved with in college, a former activist now trying to cover her own ass in a male dominated world of politics.This seems like a lot going on but it was such a great mix of plot, history, suspense and character. I felt the fear of Jay, being a black man in a southern state with a criminal past. Jay understands the logic now. The real reason for taking his gun. All of it just to scare him away. He, of all people, fell for it. He, of all people, had made the perfect mark. Rolly looked across Jay's desk. "My feeling... I mean, whatever this is really about...it's bad, man, real bad. I'd let it alone, Jay"This novel was short-listed for the Orange Prize for Fiction and it was well-deserved. This book made me think and that is always a good thing! Highly recommended
Review by deargreenplace
16/06/2015
We are in Houston, Texas and it's 1981.Jay Porter is a lawyer - not a particularly successful one. His wife Bernadine is heavily pregnant, and he is struggling to keep them afloat. On the night of Bernadine's birthday, Jay arranges an evening boat trip along Buffalo Bayou as a surprise gift. On their return down the bayou, they hear gunshots and the sound of cries and then something falling in to the water. They debate whether to help the person. Jay eventually jumps in and drags a woman out of the black water, dropping her off at the police station when they leave the boat ride.Jay's history as a black civil rights activist is one of the main reasons he doesn't tell the police about the gunshots. The other is his deeply ingrained suspicion of "the long, creative arm of Southern law enforcement" - of which he has first-hand experience. When he reads a few days later that a man was shot that evening, Jay begins to investigate the mysterious woman.Jay's enquiries uncover a wider network of political intrigue and connections to powerful oil players in Texas, and he must make peace with the Mayor in order to get her help, a woman he believes betrayed him so many years ago.On the surface this is a thriller, but it is also so much more. Jay's college days and his relationship with his wife's father are written very well. He is struggling to come to terms with his past and himself and his perception that even after all of the civil rights work of the 60s and 70s, he is still not an equal man, in spite of his qualifications.The author's afterword is worth reading too. This book works really well as a thriller, but will also satisfy those with an interest in literary and political fiction. Timely too, given the current prominence of oil companies in the US.
Review by whirled
16/06/2015
I guess Harper Lee has made it hard for me to appreciate debut novelists who don't emerge perfectly formed. Attica Locke's first effort offers an intriguing premise and competent writing, but fails to deliver as a thriller. I found the subplot about union infighting on the Houston docks really tedious - it slowed the pace down and detracted from the more interesting chapters about Jay's past entanglements with the civil rights movement and with the city's ruthlessly ambitious mayor. I didn't love this, but I think Attica Locke will write better books in the future.
Review by hemlokgang
16/06/2015
I was initially drawn to this novel as a debut suspense novel, yet it truly is so much more than that. Set in the Texas bayou outside Houston, a fluke of circumstance leads to a tale of corruption, murder, attempted murder and all of the machinations one would expect. However, this is also a well told story of a man on the verge of fatherhood who must find a way to resolve the crime, his past, and his future. it is a tale of integrity...doing the right thing when no one is looking. Well done!
Also in the Jay Porter series