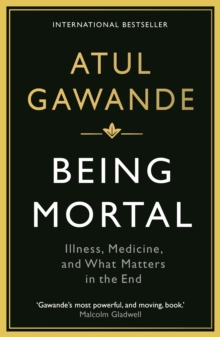 Being Mortal : Illness, Medicine and What Matters in the End
Paperback
Part of the Wellcome series
Description
For most of human history, death was a common, ever-present possibility.
It didn't matter whether you were five or fifty - every day was a roll of the dice.
But now, as medical advances push the boundaries of survival further each year, we have become increasingly detached from the reality of being mortal.
So here is a book about the modern experience of mortality - about what it's like to get old and die, how medicine has changed this and how it hasn't, where our ideas about death have gone wrong.
With his trademark mix of perceptiveness and sensitivity, Atul Gawande outlines a story that crosses the globe, as he examines his experiences as a surgeon and those of his patients and family, and learns to accept the limits of what he can do. Never before has aging been such an important topic.
The systems that we have put in place to manage our mortality are manifestly failing; but, as Gawande reveals, it doesn't have to be this way.
The ultimate goal, after all, is not a good death, but a good life - all the way to the very end. Published in partnership with the Wellcome Collection. WELLCOME COLLECTION is the free museum and library for the incurably curious.
It explores the connections between medicine, life and art in the past, present and future.
It is part of Wellcome, a global charitable foundation that exists to improve health for everyone by helping great ideas thrive.
Free Home Delivery
on all orders
Pick up orders
from local bookshops
Reviews
Showing 1 - 1 of 1 reviews.
Review by PaulCranswick
27/01/2016
"Being mortal is about the struggle to cope with the constraints of our biology, with the limits set by genes and cells and flesh and bone. Medical science has given us remarkable power to push against these limits, and the potential value of this power was a central reason I became a doctor. But again and again, I have seen the damage we in medicine do when we fail to acknowledge that such power is finite and always will be" This book deserves a little quiet reflection before rushing off another of my glib and pithy reviews. In fact it deserves a more considered effort all together. One of the questions the experience of reading this made me broach to myself was, "why did parts of this move you so, Cranswick, you big softie?"Well I guess it is because the writer brings experience, knowledge and most of all empathy to a subject that each of us in our own way will face ere long. At the dawning of our lives the sunset of old age, illness and our demise is beyond the horizons of our understanding. As we grow closer to its actuality must we ponder the manner of our ending, our dignity, our life and death choices? I am firmly of the view that one needs to be of a certain age to appreciate and be moved by a book of this scope and nature and suffice to say I am of sufficient years to be sufficiently moved!Gawande's precis here is on the finite nature of all things. The limit to life, the limit of advances in medical science to prolong life and how, in striving to do so, it can impinge upon the quality of the life it is seeking to lengthen. His examples, both professional and private used to examine his beliefs are handled with a candour and a sensitivity which does him great credit as a human being as well as a medical practitioner. Not many of us know how we will react if faced with the reality of terminal illness and to each the ways to cope will be profoundly different I am sure. There is no cure-all, he makes that clear - palliative care works for some, others want to tough it out and fight to the bitter end. I don't know what I would do but there is courage and dignity in both ways.I am mortal. You are mortal. This book will not be so.