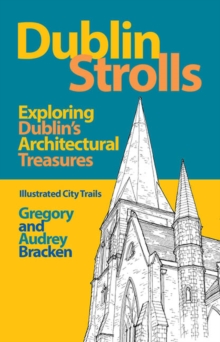 Dublin Strolls
Paperback / softback
Description
This handy guide to Dublin's architecture is filled with easy-to-follow walks through the city, with clear maps, expert architectural insights and fascinating historical detail.
Dublin's long history has had a visible impact on its architecture: waves of invaders and the attempts by Dubliners to shake them off have left their mark, with the 1916 Easter Rising, for example, having left whole parts of the city in ruins.
It was not all strife, however: the Georgian era saw gracious streets and squares being laid out.
This book invites you to emulate Leopold Bloom in strolling through the city.
Each walk follows on from the one before and gives clear architectural descriptions, accompanied by beautiful hand-drawn illustrations.
Discover: - Hidden Dublin (including Isolde's Tower, the remains of a 13th-century defence tower discovered in the 1990s along with the skulls of a number of young men whose heads had been displayed on spikes) - Religious buildings (from Christ Church to the burial place of St Valentine) - The buildings involved in the 1916 Rising (including the Royal College of Surgeons, City Hall, Liberty Hall, Kilmainham Gaol and, of course, the GPO). "Stands apart from similar guide books to Dublin principally for its high level of architectural detail on the city's buildings and its tasteful architectural sketches." - The Irish Times. "Uncovers some fascinating - and forgotten - histories." - Irish Independent. "Not only a guide to some slick architectural trails around the city, but also an absolute MINE of titbits about our fantastic city." - Lovin' Dublin. "A vibrant treasure hunt." - Dublin Inquirer. "Enlightening and inspiring." - The Herald
Information
Format: Paperback / softback
Pages: 251 pages
Publisher: The Collins Press
Publication Date: 21/03/2016
Category: History of architecture
ISBN: 9781848892712