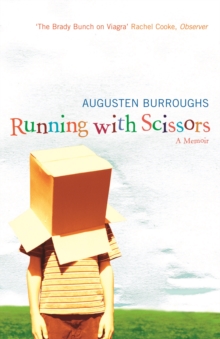 Running With Scissors
Paperback
Description
'This is the Brady Bunch on Viagra... it is impossible not to laugh at all the jokes; to admire the sardonic, fetid tone; to wonder, slack-jawed and agog, at the sheer looniness of the vista he conjures up' Rachel Cooke, ObserverThis is the true story of a boy who wanted to grow up with the Brady Bunch, but ended up living with the Addams Family.
Augusten Burroughs's mother gave him away to be raised by her psychiatrist, a dead ringer for Santa Claus and a certifiable lunatic into the bargain.
The doctor's bizarre family, a few patients and a sinister man living in the garden shed completed the tableau.
The perfect squalor of their dilapidated Victorian house, there were no rules and there was no school.
The Christmas tree stayed up until summer and Valium was chomped down like sweets. And when things got a bit slow, there was always the ancient electroshock therapy machine under the stairs...'This true story is a match for the strangest...
Running with Scissors reads like an extremely well crafted and crazed sitcom, a mix of Jerry Springer and Seinfeld...
Funny, moving and extraordinary' Christina Patterson, Independent'Twisted, hilarious and relentlessly bizarre...
It single-handedly redefines the term "fucked up childhood"' Sleazenation'Bawdy, outrageous, often hilarious... so flippant and so insanely funny' New York Times'A story so strange, it could never be fiction... deftly written, smart and funny' GQ'Burroughs will be hard pressed ever to better this, his debut effort...
It's one you'll never forget' Alice Fisher, Time Out'Dave Pelzer with a whoopee cushion attached...
Genuinely memorable' Observer Top 50 Cultural Events of the Season
Information
Format: Paperback
Pages: 400 pages
Publisher: Atlantic Books
Publication Date: 12/02/2004
Category: Autobiography: general
ISBN: 9781843541516
Free Home Delivery
on all orders
Pick up orders
from local bookshops
Reviews
Showing 1 - 1 of 1 reviews.
Review by PghDragonMan
16/06/2015
After reading this account of his early life, it is a wonder Augusten Burroughs survived to write the story. If you ever get the chance to see him at a reading, go see him. He is wonderful in person, very candid about any aspect of his previous life.Since I'm not much of a biography reader, I don't have much to compare this to. From a reader's perspective, the story is very well written and flows of the pages nicely. It is almost as if Burroughs is narrating just to you, the reader. I have not come across another autobiography that reads this easily.It is his personal history, however, that really makes you sit up and take notice. It is like a real life version of the Lemony Snickett series. If you enjoyed "Scissors", I urge you to read "Dry" and "Magical Thinking". Both continue to follow the author after the time covered in this installment.